DRC: "Combat sports are not supported by the government…Sometimes we traveled without money to sleep and eat in very poor conditions" (Tshiaba)
DRC karate legend Nancy Tshiaba has decided to end her career as an athlete to pursue a career as a coach and referee. He explained this retirement at the age of 31 by concern to manage the young successors. In an interview with Sport News Africa, the one who won several continental medals regrets that the Congolese government did not give him the opportunity to achieve better results.
Sports News Africa : Nancy Tshiaba you announced that you have finished your career as an athlete. What are the reasons?
Nancy Tshiaba : No one can ignore that I have to do my time and I thought it was time to give way to the rising young people who are so talented and promising. I thought that I have to evolve now in a different way by supervising this youth so that they don't make the same mistakes that we did.
You are going to retire at 31, isn't that too soon?
Sometimes you have to make the exception; you don't always have to wait 40 or 50 years to retire. When people want to see you stick with a discipline for a very long time, you can surprise them by going earlier than expected; I didn't leave, I just changed myself. You have to leave things before things leave you. I think I made this decision at the right time after the last medal won in the African championships as an athlete.
After 18 years as a national team athlete, what is your assessment of your career?
My assessment is positive because I have been on the African podium many times. At the African Championships, I won three bronze medals in 2009, 2017 and 2021 as well as a silver medal in 2007. At the Central African level, I won two bronze medals. At the national level I was champion of the DRC from 2004 until my retirement and I also participated in world championships. It was a good race and I think I represented my country well.
"Combat sports were not supported by the government of our country and we spent a very difficult time with the national team. We will sleep and eat in very poor conditions. eat Really hard.»
What is the best memory you have in your career?
These are my two hard medals won at the African Championships, the first in 2007 and the last in 2021
What difficulties have you faced in your career?
Anyway, it wasn't easy. I gave my best but nothing was easy. Combat sports, for the most part, were not supported by the government of our country and we had a very difficult time with the national team. We will sleep and eat in very poor conditions as we go to represent the country in continental competitions. Sometimes we traveled without mission expenses and sometimes without money to sleep and eat. Really hard.
Do these difficulties discourage you at any time from continuing to serve the country?
No, it motivated me to give my best again so as not to end up like everyone else. I want to walk out the front door and then make sure that future generations don't have to go through the same hardships that we did.
What hinders the development of Congolese karate according to you?
This is the technical part. The federation should work hard on this side. The technical staff should be trained to better deliver the material to the athletes. Apart from the technical side, there is also a lack of adequate infrastructure and materials. But the infrastructure problem is a general problem that all disciplines experience in the DRC.
"I was born a karateka and I will die a karateka. This passion will never leave me.
You have become a referee and a coach, does that mean you still have a passion for karate despite your international retirement as an athlete?
I was born a karateka and I will die a karateka. This passion will never leave me.
What do you plan to do as a coach that you didn't do as an athlete?
Win a gold medal at the continental level and a medal at the world level as well as another at the Olympic level. I know it won't be easy, but we are working with a rising youth with a lot of promise and we are giving it our best, while hoping that with time the government will understand the importance of martial arts and support us to get there .
You are the reference of Congolese karate and you will retire. Is succession guaranteed?
Yes, the succession is sure. There are young people who are rising and I am proud. I saw some at the last National Championships and the last Great Lakes tournament. I told myself that I had made no mistake in retreating to bring them out into the light once and for all. We continue to work with them so they can do better than I did.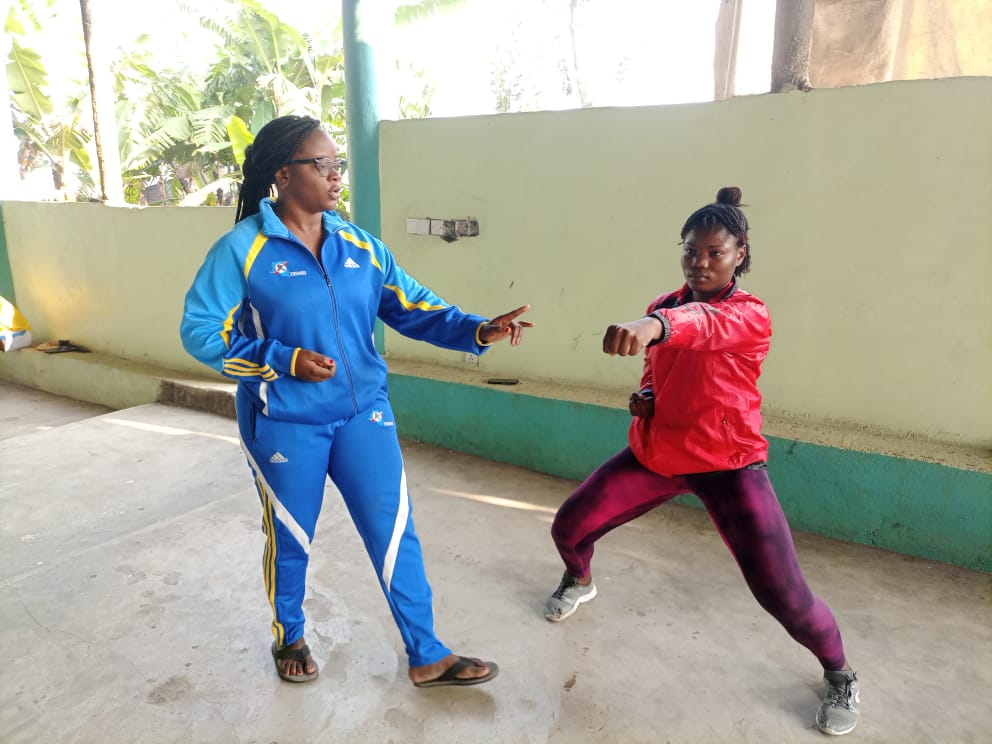 Is it possible that you are rethinking your decision to retire?
No, it is impossible for me to go back on the decision.
How do you intend to help the DRC with all that you have learned in your career?
I am already helping the country by coaching the youth in my club. I am in the national team as a lady coach. So I am in the process of sending what was sent to me for free.
What message are you sending to girls who are still reluctant to practice karate?
I ask them not to hurt their talent because they are the losers. I used to be an orphan and rejected by society, but now people talk about me thanks to karate. I have a talent that I have not neglected and I have lived. Now it paid off because I had determination. I especially encourage parents to send their girls to sport because it will allow them to develop.