The origins of the Ford Thunderbird
Few cars have achieved cult status from their launch. However, this is what a small two-seater convertible designed by Ford did.
According to legend, the Thunderbird story began in October 1951. Ford Brand Managing Director Lewis Crusoe and Ford Motor Company Design Manager George Walker at the Paris Auto Show. Crusoe was impressed by English roadsters, especially the Jaguar XK 120, and General Motors' LeSabre concept. "Why don't we have this? he asked Walker. And the latter replied "But we have it! before rushing to a phone to contact stylists in Detroit to immediately begin work on a sports car. The problem is that it's just a myth…
Thanks Chevy!
Many automotive historians agree that this story is not true (it is at least a year too early compared to the actual Thunderbird timeline) and that it was probably invented by Walker himself, who claimed to be better at self -promoted over automotive design. Be careful, Walker is a true industrial designer with extensive experience, but some of his collaborators agree that he easily takes credit for the work of others… as of what happened to the styling of the 1949 Ford for example. He officially became vice-president in charge of design at Ford in 1955 (his company was under contract until then), before retiring in 1961.
In fact, the origins of the T-Bird began with the birth of the Chevrolet Corvette. In an America that began to discover English roadsters, Harley Earl, vice-president in charge of design of General Motors, imagined a small inexpensive roadster based on the Chevrolet. The Corvette was presented on January 17, 1953, at the Motorama, held at the Waldorf-Astoria hotel in New York. On February 9, 1953, Ford approved the launch of an accelerated program for the development of a two-seater sports car. No chances…
In fact, the Corvette's influence begins even earlier. In fact, it was when he discovered – in 1952 – the images of the future two-seater Chevrolet (thanks to a friend who worked at GM) that Frank Hershey, head of Ford's brand style, began to work in his corner in a sports. convertible concept. Hershey is an interesting character. After starting his career with the Californian coachbuilder Murphy, he went to GM where he became the director of the Pontiac design studio (he created the signature Pontiac from 1935 to 1956, the famous Silver Streak). Fired for an outlandish ashtrays story, he would find out years later that Harley Earl wanted him to replace him as GM's head of design. Instead, it was Bill Mitchell and Hershey going to Ford…which he would leave when Walker was named vice-president!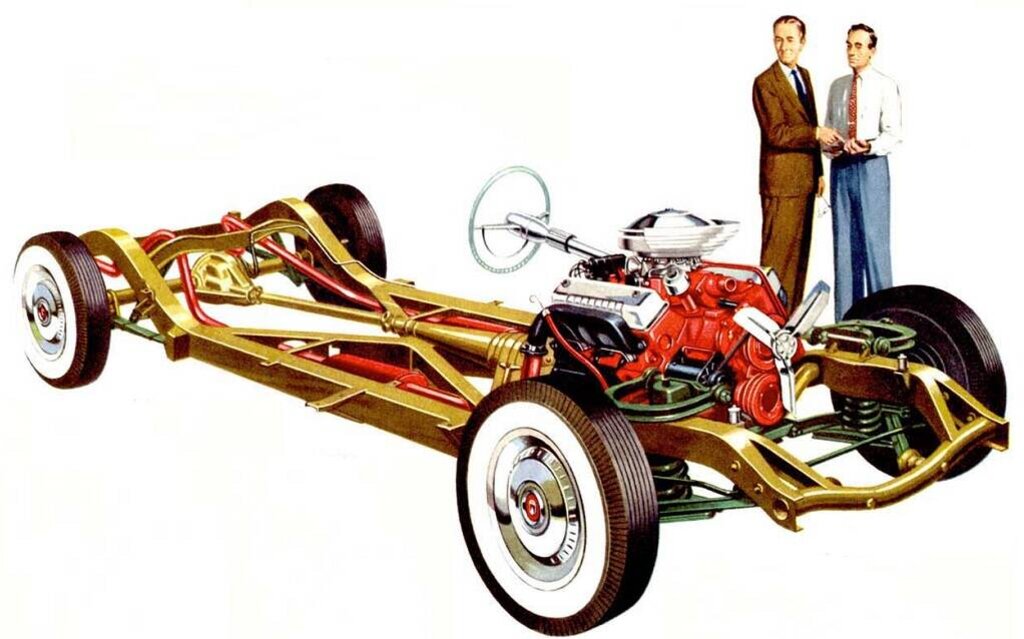 Thanks Jaguar!
Like Earl and Chevrolet, Hershey drew inspiration from the Jaguar XK120 for basic dimensions (all three cars will share the same 102-inch wheelbase) as well as for the driving position. But you have to go very quickly, because the first full-scale clay models will be presented to management on May 1, 1953.
Hershey and his team (Bill Boyer, who will also work on other generations of T-Birds, David Ash, Damon Woods and Bob Maguire) understand that the car should not be a sports car in the pure sense of the word but rather must be combined. sporty look, comfort and luxury. So no fiberglass bodywork or removable side windows like the Corvette. Or 6-cylinder, for that matter… Instead, steel bodywork, lowering windows, equipment and a standard V8. In addition to the speed of execution, the designers had the additional constraint of using the maximum parts from the Ford 55, to rationalize this "niche" project (especially the front lights and the dashboard). They achieve a simple, no-nonsense style with a low body line. This will also cause problems because the engine air filter will no longer pass under the hood. This complication can be solved by adding a functional air intake. Inside, bucket seats were considered for some time but will not be retained.
The model was finally presented to management on May 18, 1953 and was immediately accepted. If Walker takes credit for the styling, he won't do any of the lines… In fact, his only involvement was adding chrome bars similar to those on Hershey's 1955 Fairlane on vacation. The latter will succeed in removing them at the last moment, on his return.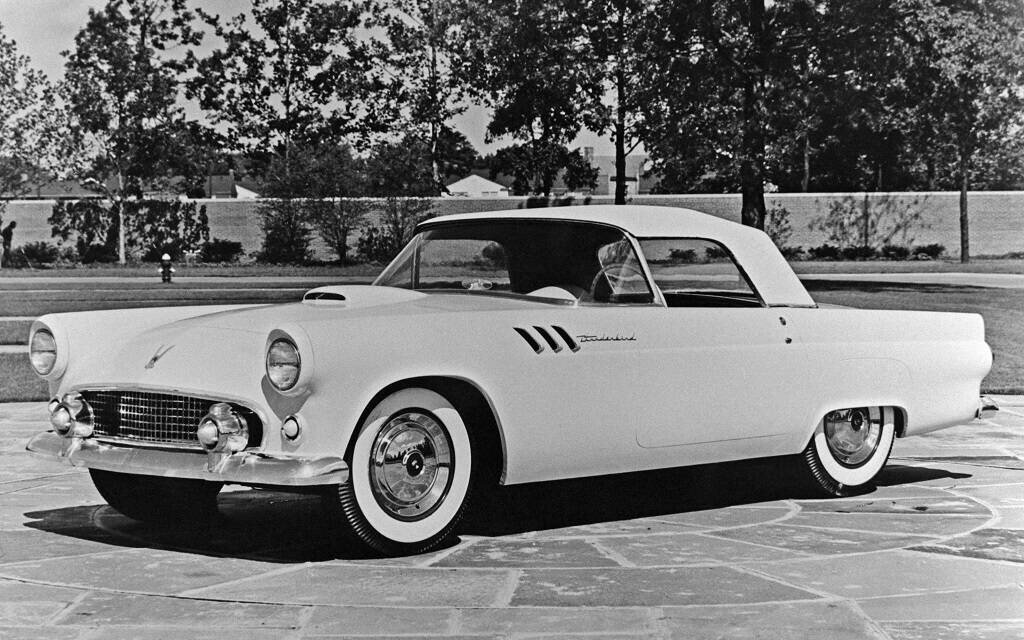 Meanwhile, engineer Bill Burnett would work on the chassis (which was a 1955 Ford two-door shortened from 115.5 to 102 inches in wheelbase) and make suspension adjustments. The engine of choice is the 292 hp (4.8 liter) Y-block normally installed in Mercurys (the "normal" Fords are entitled to a 272 hp) and generates 193 horsepower in the manual gearbox or 198 in automatically. A three-speed manual transmission is standard and the buyer can choose either a overdrive in manual or for an optional three-speed Ford-O-Matic automatic.
In the summer of 1953, the final decision was made to build the model. Crusoe will leave for Europe in the fall of 1953 which, seeing the cars on offer there, will confirm his choice to move forward. There are still very small details to work out…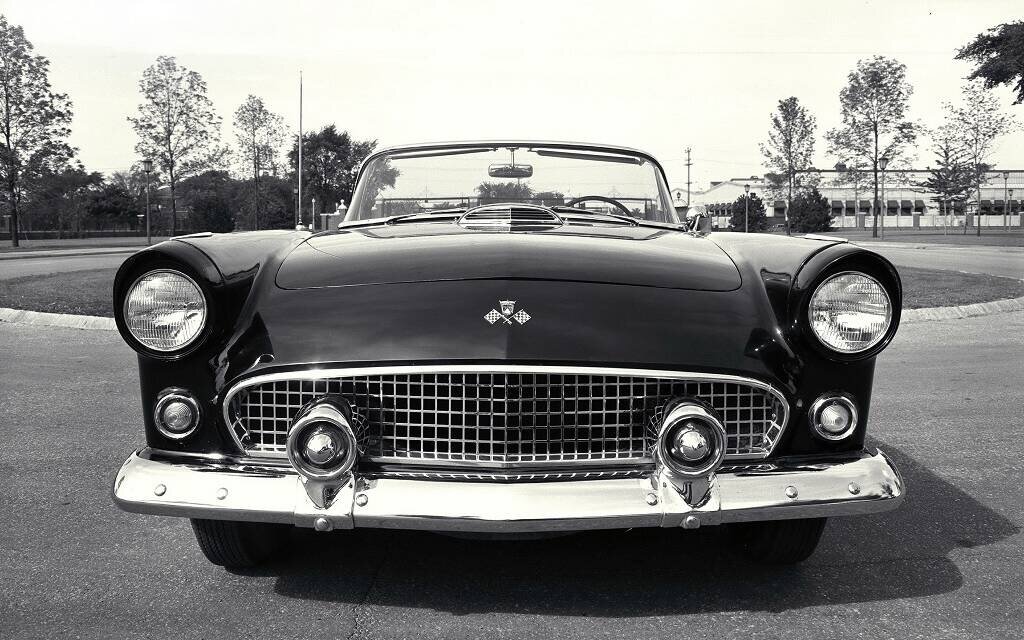 What name will it be given?
How to name the model? Many ideas were tested, but nothing really worked. Then, an internal competition was organized. Thousands of names have been proposed, including El Tigre, Roadrunner, Falcon (currently owned by Chrysler) or Detroiter. The problem took a long time to fix, and photos of pre-production cars showed the Fairlane name, Ford's new top-of-the-line for 1955, on the hood. Finally, stylist Alden Giberson suggests "Thunderbird". It is a mythical creature of the native populations of North America that is supposed to bring rain and fertility.
The T-Bird was first shown to the public at the Detroit Auto Show on February 20, 1954. The first model left the factory in Dearborn, Michigan on September 9, 1954 and sales began on October 22, 1954 at a price of $2,944 US or $4,090 Canadian. Oddly, a removable fiberglass hardtop is standard, and to get a cloth top, you have to pay an extra $75. Among the options, we see power brakes and steering, electric windows and seats, radio or whitewall wheels.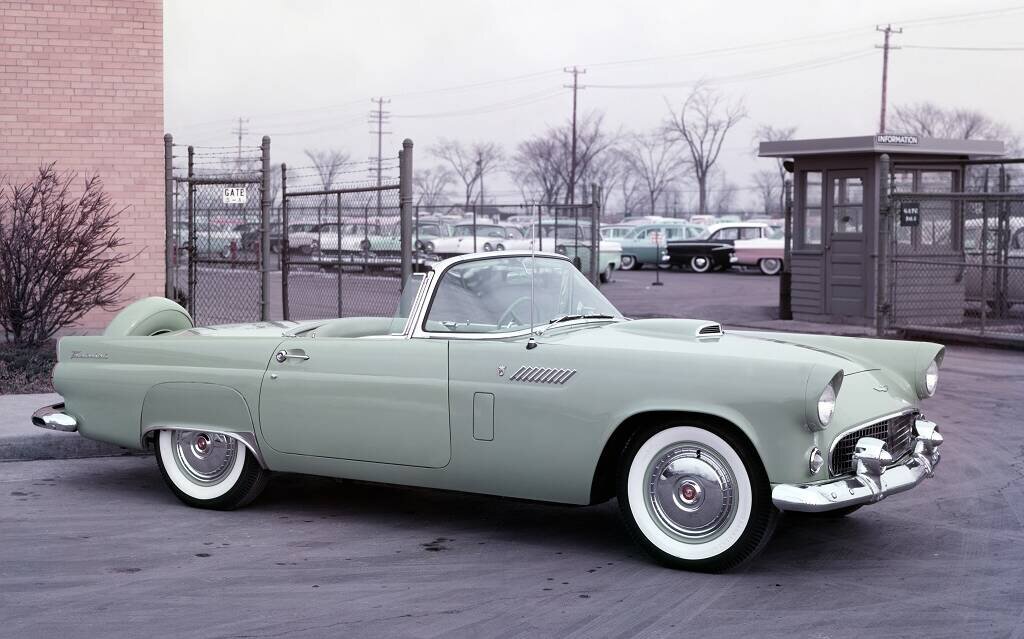 A short career
The 1956 vintage brought its share of innovations. The chassis was strengthened and, to save space in the trunk, the spare tire was integrated into the new rear bumper, like the Lincoln Continentals.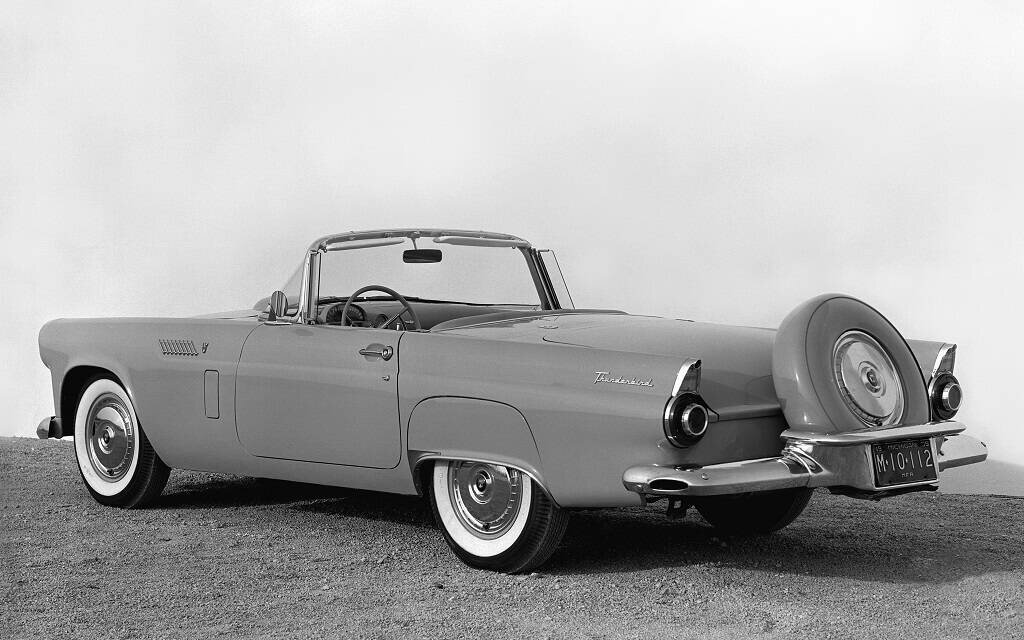 Air intakes are added to the front fenders and a round mirror on the hardtop (named porthole in English) is available as an option to improve ¾ rear visibility. On the mechanical side, the suspensions were softened and a new 312 hp (5.1 liter) was offered as an option (215 horsepower withoverdrive and 225 with automatic, the 202-hp 292 hp only comes with a 3-speed manual).
For 1957, the changes were more profound. The restyling brings new bumpers, a new front grille and more marked fins (in line with 1957 Fords), the rear is lengthened (the spare tire goes back into the trunk), the wheels go from 15 to 14 inches and the dashboard has been completely redesigned. Engine offer changed. The base 292 hp now generates 212 horsepower, the optional 312 hp 245 while a 4-barrel twin carburettor variant is added (270 or 285 horsepower with the Competition package). A very rare version with a McCulloch/Paxton compressor was also offered (300 horsepower in the street version, 340 in the NASCAR version).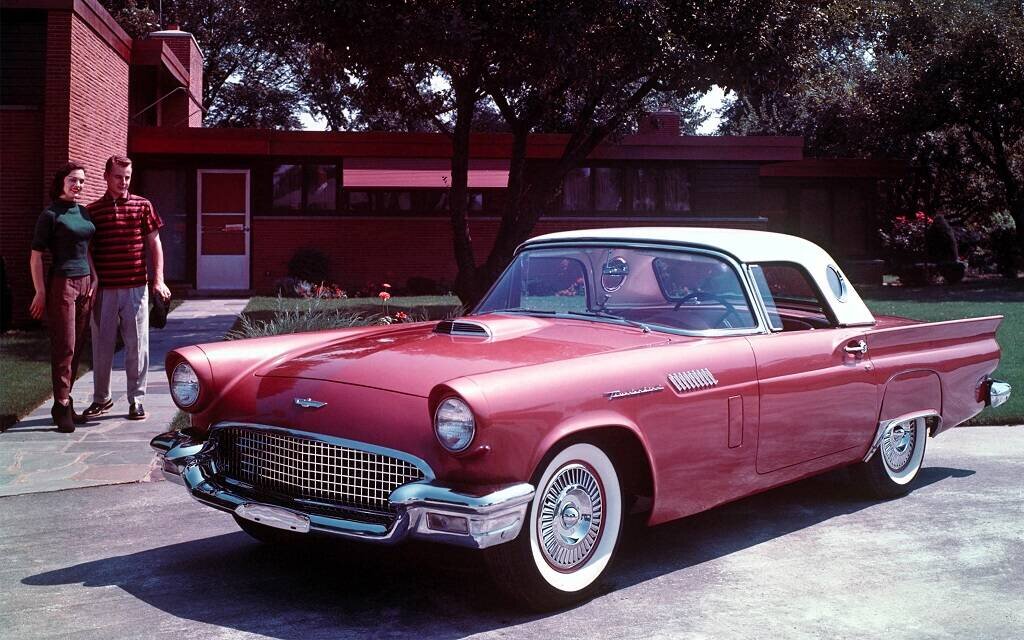 Thanks Ford!
Ford calculated that the profitability of the project was about 16,000 copies, which was ambitious because, in 1954, Chevrolet had produced only 3,640 Corvettes. However, Ford would achieve its goal with 16,155 T-Birds sold in 1955 (against 700 Corvettes), then 15,631 in 1956 (against 3,467 Corvettes) and finally 21,380 in 1957, partly due to the longer vintage (vs. Corvette 6,339).
Ironically, the T-Bird's successful launch would help save the Corvette, which was so close to going to the scaffold. Despite this success, Robert McNamara, president of the Ford division and future secretary of defense in the Kennedy and Johnson governments, requested that the Thunderbird be a four-seater for 1958, to improve its profitability. Well take it, sales will increase by almost 80%! Ultimately, the T-Bird would know 11 generations and sell over 4.4 million copies through 2005.