Geekbuying is offering 3 absolutely insane promotions on some electric bikes
Do you want to switch to an electric motorcycle or electric bike before the end of the year 2022? This is quite good, because the site specializes in the subject GEEKBUYING offers attractive promotions on three flagship models from its catalog. To take advantage of this, you need to order before December 30 or 31, depending on the selected model and include the discount codes that you can find in each of the descriptions. And if you want to give it to one of your loved ones for Christmas, remember in less than 3 weeks, now is the time to validate your basket! Excellent reduction, therefore, for three high-performance and comfortable models. Let's go to the show!
Introducing the Z8 Electric Bike
The Z8 Electric Bike, is one of the electric bikes we use for a motorcycle with a moto-cross country style. But its motorcycle style frame also provides more strength, durability and makes it recognizable at first sight. Thanks to its ultra-wide and all-terrain Sunrise tires of 10 centimeters, it will accompany you on all terrains very quickly, and even on snow because its tires are non-slip and puncture-proof, also ideal for rocky terrain ! You will not have any problems with the transmission either, because it is equipped with the well-known Shimano brand, whose merits do not need to be praised!
On the motor side, it has a 48V and 500W model and on the battery side, it is a 15 Ah model, which gives it a range of 40 to 60 km in accelerator mode, and from 80 to 120 km in assistance mode. It charges from 0 to 100% in 6 to 8 hours. It can reach a maximum speed of 45 km/h, which means that in France it is not considered an electric bike and requires an AM (ex BSR) license to drive. Its front fork with aluminum hydraulic suspension and its double spring rear suspension allow it to comfortably handle all possible terrains and even at night as it is equipped with LED lighting system at the front and rear.
The technical characteristics of the Z8 Electric Bike
Model: Z8.
Black color.
Motor: 48V / 500W.
Battery: 48V / 15Ah.
Tire size: 20*4.0 Fat tire (CHAOYANG)
Braking system: Front / rear mechanical disc brake
Riding Modes: Thumb Throttle and PAS
Travel distance: 40-60km with accelerator, 80-120km with PAS
Display: LCD screen
Derailleur: 7 speed (SHIMANO)
Pedal assist system: 5 levels of PAS
Maximum speed: 45KM/H
Fork fork: Aluminum hydraulic suspension fork
Rear suspension: Double spring suspension
Controller: Integrated 48V / 22A controller
Lighting system: LED front and rear lights
Charging time: 6-8H
Charger: 110-240v AC 50-60HZ, 48V2A
Weight and size Product weight: 35.5kg
Product size (LxWxH): 162 x 10.8 x 76cm
Buy the Z8 Electric Bike on GEEKBUYING at the price of €961.42 instead of €1,022.79 with the code NNNZ8EB. Promotion is valid until December 31, 2022.
I'm taking advantage of the Geekbuying offer
Introducing the FAFREES F20 Pro Electric Bike
The F20 PRO is Fafrees latest wonder, but its beauty doesn't compromise its performance and practicality. This electric model has a purple color sprinkled with glitter and will make you shine on the asphalt when you ride in the sun! With it, you go to the end of the world, because it has automotive grade 21700 battery cells with a capacity of 18ah / 36 V that are removable, which gives them a longer life. The battery gives it a range of around 90 km. With a low frame and 3.0 fat tires, designed for all types of terrain, it can accompany you on your Sunday walks, but also for your daily shopping. For the motor, it has a 250W brushless model with a maximum torque of 40N.M combined with an intelligent controller that produces a maximum speed of 25 km / h as an aid, so it falls into the category of bicycles of electricity in France. On the derailleur side, it is equipped with a Shimano seven-speed model that ensures smooth and precise gear changes. It will be responsive to your smallest gear changing desires. As for braking which includes 160mm mechanical disc brakes at the front and rear and electrically operated brake levers.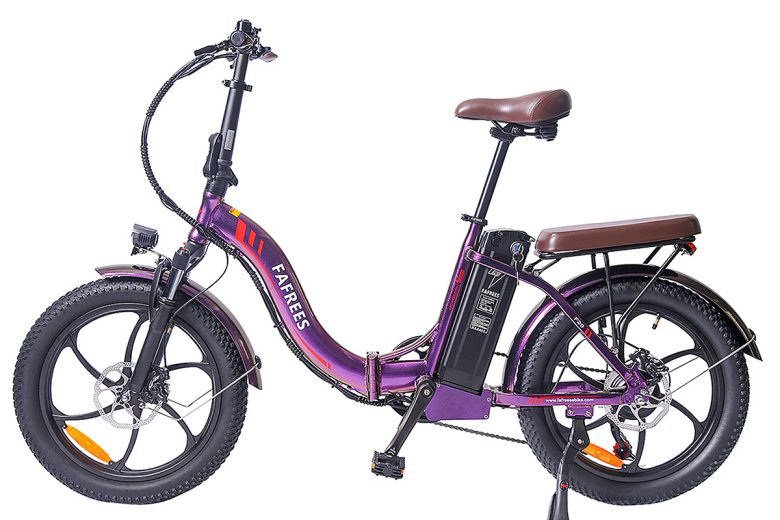 On the suspension side, it is equipped witha 75 mm travel oil suspension fork which can be adjusted to the weight on the bike, and the land borrowed. It also features an aluminum rear rack and is cargo bed compatible for quick and easy accessory mounting. Finally, on the tire side, safety and comfort are provided by CHAOYANG 3.0 fat tires with high elasticity, which increases the contact surface with the ground, improves grip and driving stability, s easily adapts to all terrains. Finally, it is foldable and adapts to many body types, from 160 to 195 centimeters, and a maximum weight of 120 kilograms. When folded, it's easy to store in the trunk or take a lift.
The technical characteristics of the FAFREES F20 Pro Electric Bike
Brand: FAFREES
Type: Ebike
Model: FAFREES F20 PRP
Purple color
Model specification: F20 pro
Motor: 250W 36V DC rear motor
Battery: 36V 18AH lithium ion battery
Charging time: 7-8 hours
Maximum autonomy in assisted mode: 120km-150km
Maximum speed: 25km/h
Maximum range in pure electric mode: 70km-90km
Elevation angle: 25°
Tire diameter: 20
Frame Material: Aluminum Alloy
Folding rod: Yes
Digital Display: Yes, display speedometer, odometer, time, lights and battery life.
Riding Modes: 3 Modes (power mode, cycle mode, moped mode)
Gear transmission: 7 gears
Brakes: Mechanical disc brakes
Headlight: Bright LED light
Maximum user weight (weight capacity): 150kg
Eligible age: 16-65 years old
Recommended height for pilot: 160-195cm
Operating temperature: -10"C-45"C
Charging voltage: DC 42v
Input voltage: AC 220v
Tire size: 20*3.0
Tire type: Pneumatic
Folded size: 88CM*38CM*70CM
Weight and size Product weight: 26KG
Buy the FAFREES F20 Pro Electric Bike on GEEKBUYING at the price of €981.88 instead of €1,022.79 with the code NNNF20PROFD. Promotion is valid until December 30, 2022.
I'm taking advantage of the Geekbuying offer
Introducing the BEZIOR X1500 Fat Tire
Like all models of the BEZIOR brand, the X1500 has many strong points starting with its large capacity and removable 12.8 Ah / 48V battery. It gives a range of around 100 km. On the engine side, and this is also one of its strengths, it has the ability to push the engine and its pilot to speed of 40 km/h in less than five seconds. As you understand, in France, it cannot be considered an electric bicycle because it exceeds 25 km/h, so you will need an AM license to be able to fight it and test its 48V high-speed brushless motor. / 1500w that remains very light despite its power.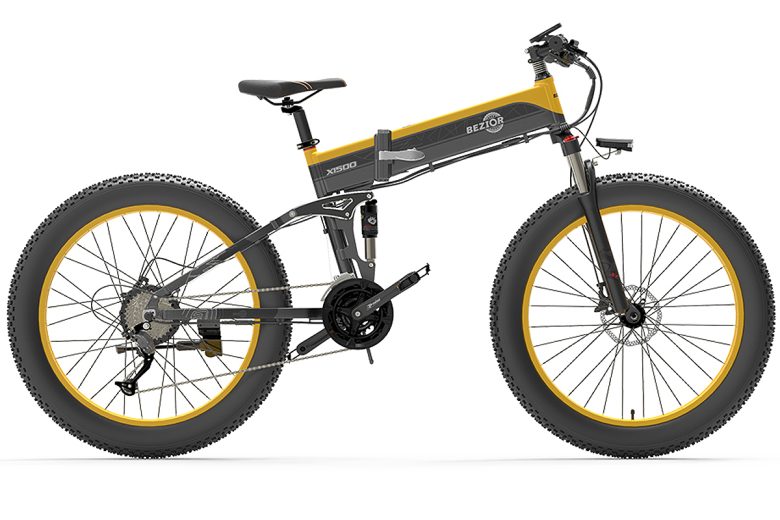 Like most BEZIOR brand gears, the X1500 features a star gear design that helps boost torque and improve fuel efficiency conversion rate. Therefore, it will consume less power and run more quietly while improving speed performance and climbing performance. With the five-inch smart LCD meter, you can monitor speed, distance traveled, battery life and time traveled. Finally, it is equipped with an oil spring suspension fork and 26 × 4 inch wheels, which allow the pilot, better comfort and more safety. Potholes and other speed bumps will become just grains of sand for him to cross! With its wheels that can reach up to 10 centimeters, non-slip and anti-vibration, you will hardly feel the shock caused by rocky roads or scattered holes of all kinds!
The technical characteristics of the BEZIOR X1500 Fat Tire
Brand: BEZIOR
Type: mountain bike
Model: X1500
Color: Black / Yellow
Material: Aluminum Alloy
Folded size: 100*105*45cm
Opened size: 85*105-95cm
Wheels: 26*4.0 alloy
Weight: 31kg
Maximum load: 200kg
User height: 165-190cm
Maximum speed: 40km/h
Maximum slope of 38°
Waterproof level IP54
Charger: 48V / 3A
Battery capacity: 12.8AH
Battery voltage: 48V
Vector controller: 48V / 20a
Rated motor voltage: 48V
Motor power: 1500W
Charging time: 4-6h
Hydraulic disc brake: ZOOM H875 power-off
Buy the BEZIOR X1500 Fat Tire on GEEKBUYING at the price of €1,309.17 instead of €1,350.09 there is a code NNNBEZIORX1500. Promotion is valid until December 31, 2022.
I'm taking advantage of the Geekbuying offer
These three models are on promotion at GEEKBUYING until the end of December. It's now or never to treat yourself to one of your dreams and embark on an adventure! Take advantage, the promos will only last a moment!