Who is Viktor Bout, former arms dealer traded for basketball player Brittney Griner?
Viktor Bout was, for two decades, the embodiment of the rampant arms trafficking born of the chaos that followed the dissolution of the USSR, to the point of inspiring Hollywood and attracting the attention of intelligence services. Thursday, December 8, after lengthy negotiations, the United States agreed to hand him over to Moscow in exchange for basketball player Brittney Griner, who has been imprisoned in Russia since February for possession and trafficking of cannabis. Sentenced in 2012 in the United States, this charismatic 55-year-old figure has been the subject of negotiations between Moscow and Washington for years.
Also read:
Articles are reserved for our subscribers

A basketball player against an arms dealer: an unbalanced exchange of prisoners between Washington and Moscow
Born, according to a United Nations report, in Dushanbe, capital of the former Soviet republic of Tajikistan, Viktor Bout studied at the Military Institute of Foreign Languages​​​​​​​​​​​​​​​​​​​​​​​​​​​​​​​​​​​​​​​​​​​​​​​​​​​​​​​​​​​​​​​​​​​​​​- , where he was a translator and radio operator. According to his detractors, he has been able, since the collapse of the USSR in 1991, to take advantage of the post-Soviet chaos to obtain at low cost a quantity of weapons in deserted military bases and from officials in search of enrichment or livelihood. In another stroke of genius, he set up his own fleet of cargo planes for his deliveries around the world.
A polyglot (he speaks a dozen languages), very fast, Viktor Anatolyevich Bout is suspected of supplying weapons to sometimes opposing sides in some of the bloodiest conflicts, the diamond wars (Sierra Leone, Liberia) in internal conflicts in Congo or Angola and as far as Asia, from Afghanistan to Sri Lanka.
Lord of War
American journalist Douglas Farah, co-author in 2008 of the book-investigation Merchant of Death ("Merchant of Death", not translated), describes Viktor Bout as "a Soviet official took advantage of the opportunity presented by three factors born of the collapse of the Soviet Union: the aircraft was abandoned on the runways between Moscow and Kyiv (…)large caches of weapons guarded by unpaid soldiers, and the explosion demanded by the weapons".
He entered popular culture in 2005, when the film was released. Lord of War ("Warlord"), inspired by his life, in which Nicolas Cage plays arms dealer Yuri Orlov, who is pursued by Interpol. In Russia, some believe Washington is expanding its weapons arsenal to intimidate and demonize Moscow.
"The myth created about the Bout of the United States is not decently primitive: a bad Russian guy illegally sells weapons and tries to hurt America, but good Americans put an end to it"wrote the Russian journalist Alexandre Gassiouk in the book published in 2021 to say "the true story" from "Merchant of Death".
"Honest businessman"
In the preface to the book, Alla, his wife, describes him as a "honest businessman and a great patriot convicted of crimes he did not commit".
Suspected by some to have been a member of the military intelligence services, Viktor Bout was arrested in Thailand in 2008 by agents of the Drug Enforcement Agency (DEA, American drug administration).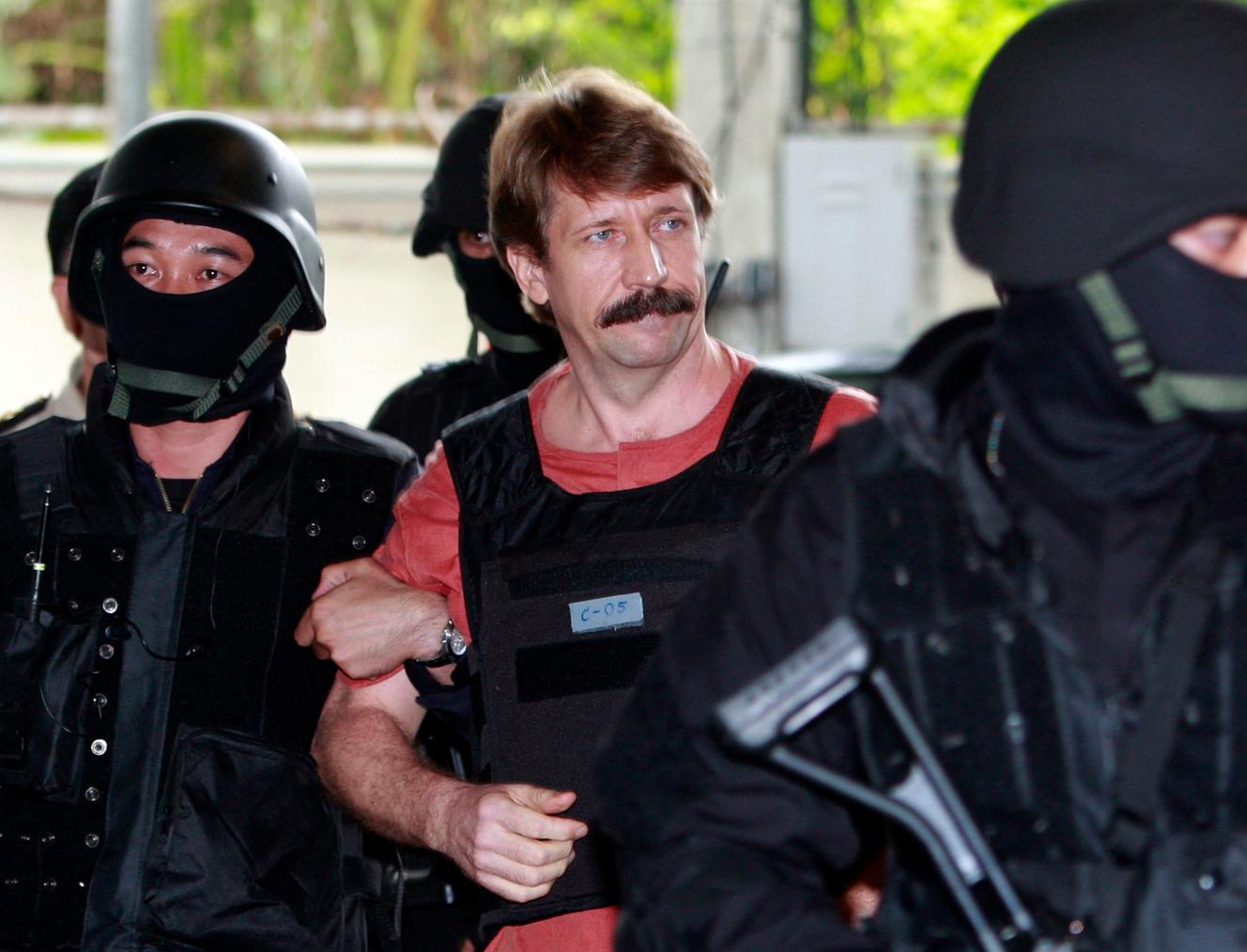 They considered themselves intermediaries for the Colombian guerrillas, they met him in a hotel in Bangkok. Mr. Bout has reportedly pledged to deliver 100 portable surface-to-air missiles, rockets and 5,000 AK-47 assault rifles, among other things. Arrested by Thai police, he was extradited to the United States in 2010, then convicted of arms trafficking in November 2011 and sentenced to twenty-five years in prison the following year.
Also read:
Moscow denounced the conviction of arms dealer Viktor Bout in New York
"I'm not guilty, I didn't mean to kill anyone, I didn't mean to sell weapons to anyone, God knows the truth", he will launch before the announcement of the verdict. The Russian Foreign Ministry will pledge to do everything to secure his return to Russia, denouncing a trial "politics".
Since then, Moscow has continued to punish his imprisonment, a sign, for some observers, that Mr. Bout acted with at least the tacit approval of Russian officials.
Also read:
Itinerary of a "merchant of death"