Three books to survive the holiday season
We know it very well, during the end of the year celebrations, we sometimes swallow as many sexist snakes as chocolates (and that's what it says!). Madmoizelle has prepared a selection of three titles for you that offer plenty of advice and information to dismantle (with humor, class, instruction and erudition) the arguments and clichés thrown at us.
Ha Noël… its a procession of presents and chocolates. The slick thematic TV movies and its endless family meals where loved ones cuddle, but sometimes, and this is an understatement, hurt.
Diverse and varied disapproval of sexual orientation, pressure on whether or not to have children, clichés that are threadbare but still have an effect – "Are you hysterical, are you menstruating or what? » or «We know who wears panties here» – but also noted at this time when «we have nothing more to say» and where feminists are too radical, especially for poor men who are clearly it is scientifically proven that they have urges to please. ..

Also read:

Inclusive stories, anti-hero series, making families different: here are three books not to be missed
The possibilities of tensions (and slippages) are many and, at the time, sometimes helpless, we cannot use our sense of repartee to reverse the discussion and make our point of view heard. What often develops apart from the days following annoying meetings of furious rumors with a punch of "if I said so" or "I should have". To prepare yourself in a good condition for this type of situation, you will find in this selection formidable weapons that allow you to dismantle – with humor, class, instruction and/or erudition – the arguments and clichés thrown at us.
3 books to survive the holiday season
"The precision of feminist culture shines through in a patriarchal society by Sabrina Erin Gin
Did you know that in 195 BC, women were already showing the right to dress as they wanted? That in 2020, in France, a woman who refused to have sex with her husband, saw the judges of Versailles pronounce divorce on the grounds of sin due to the lack of sharing flesh? Or do we owe Ada Lovelace (1815-1852) the very first computer program without which the computer would never have seen the light of day? With his Precis of feminist culture to shine in a patriarchal society (Leduc editions), Sabrina Erin Gin gives us a gallery of lesser-known stories that have shaped the great history of feminism. The author here continues to popularize the rights of women that she leads on her Instagram account, which is followed, @olympereve. Structured in thirty short chapters, which can be read separately, this book is mined with sometimes eccentric anecdotes that, while painting the picture of misogyny, give us the weapons to combat it effectively. We say bravo!
*Precision of feminist culture to shine in a patriarchal society, by Sabrina Erin Gin, Leduc editions, 208 pages, €17

Also read:

Women's conflict, medical violence, #MeToo: three books to read this month
"Surviving ordinary sexism", collective work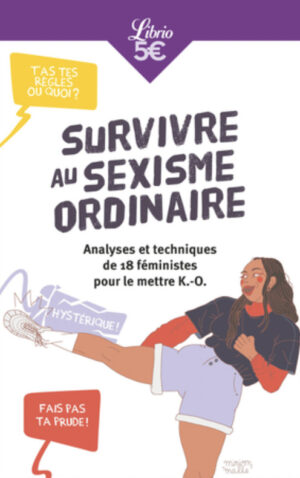 These are little phrases that we know well. "We know who wears the panties" (often said with a wry laugh); "Are you on your period or what?" » ; "You can no longer ride in an elevator with a girl"; "But what do they want in the end?" » ; "Feminine ones! » ; or the classic "Hysterical". Handling these sexist punchlines with a knack for driving us crazy – and sometimes losing our legendary sense of repartee – eighteen feminist personalities offer their reviews and advice to knock them out a very small book, Survive ordinary sexism. Published by Librio last year, at a very reasonable price of 5 euros, it is a true fighting guide mixed with humor and irreverence. We see there the writings or illustrations of Evie, Marie Kirschen, Valérie Rey-Robert, Lauren Malka, Ovidie, Kiyémis or Pauline Harmange. We especially like his participation in a vinaigrette story about the famous "Wait, I'll explain to you how it's made…". We also give you a little extract, because it is as funny as it sounds: "I put a cold smile on my marble face and replied, 'I'm fine, I think I can do it, thanks. » not happy! The cold kindness, my little look and this thanks: what open doors into which the humble man rushes in! Men are good at ignoring sarcasm when it suits them. "You have to stir well, but don't forget the mustard, otherwise it won't be an emulsion," he kindly added. My PLS physics-chemistry teacher under his bench. The four Oscar actresses are waking up to me. I hit my forehead and burst out laughing. Ha ha ha! Thanks a lot ! You're in luck, my friend, I almost turned mustard into gravel! Fioulala, we're warm, it's a relief! ".
*Live with ordinary sexismcollective work, Librio, 96 P., 5€.
" Our revolting, unstoppable responses to received ideas about feminism by Eve Cambreleng and Blanche Sabbah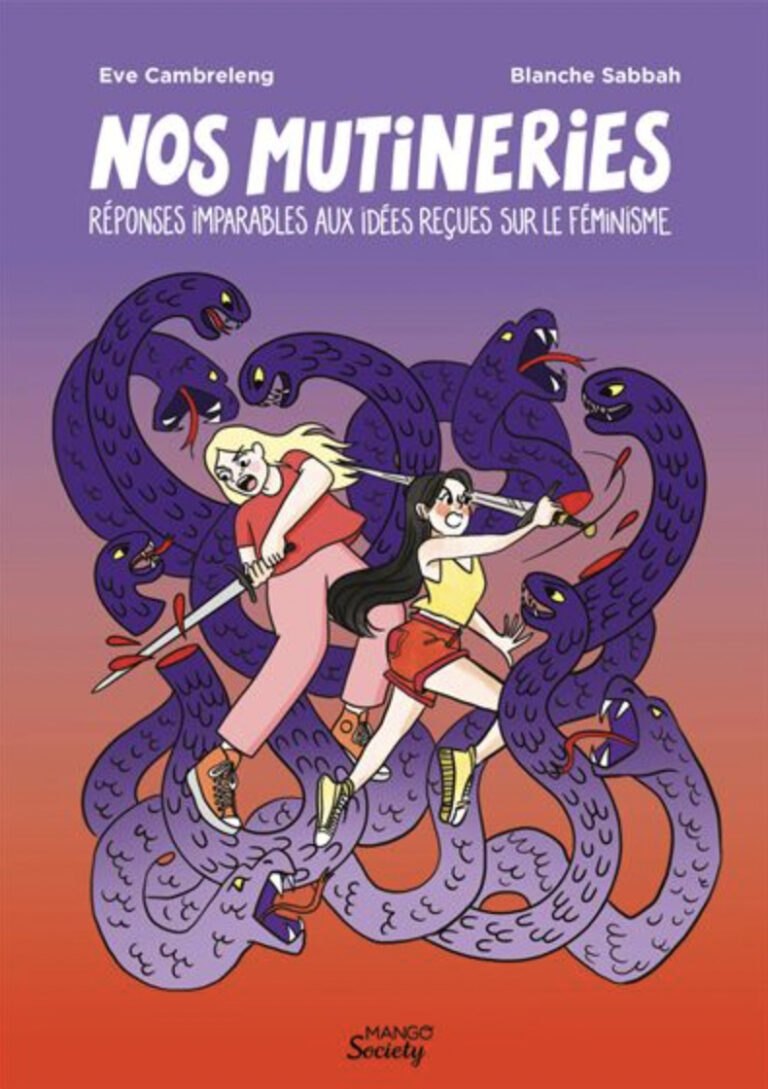 From him, we have come to love hard-hitting A body and a scream: the feminist revolution of bodies (Albin Michel) whose tone, punch and unrestrained tone reverberates through posts on his Instagram account, @abutevie. After dealing with endless orders on women's bodies, the illustrator set this time to deconstruct received ideas about feminism (but not only!) in a fun comic strip. Signed with four hands with designer Blanche Sabbah, Our revolting, unstoppable responses to received ideas about feminism (Mango), brings together many stories drawn around clichés that are often thrown in our faces, in "one more point" mode. "It's trendy to be LGBT+", "Men have impulses", "I'm not a feminist, I'm a humanist", "We have nothing more to say"… By dissecting these ready-made sentences and by revealing the springs that underlie them, the authors bring food for thought, but above all explanations. which will make it possible to bring down the crap on the people who throw it at us. We prefer this wonderful comic book because it is able to accurately evoke hot topics, and it must be admitted that it is a bit confusing, such as the compatibility between feminism and religion or the question of separation. the man and the artist. A deed.
*Our revolting, unstoppable responses to received ideas about feminismby Eve Cambreleng and Blanche Sabbah, Mango, €17.95.

Also read:

Back-to-school literature: 3 first novels to read urgently