Work flexibility: m-work raises 1 million euros to support key accounts
By Philippe Guerrier | The
| Workspace
Based in Station F, start-up m-work offers a SaaS platform to facilitate HR planning and the organization of hybrid work. Update on this first round table with Joséphine de Leusse, co-founder of m-work.
Every company must find its bearings in the era of hybrid and flexible working. Based at Station F, the start-up m-work discusses the working environment of the employees in this new organization between the tasks performed in the office and those performed remotely.
It has just completed its first fundraising of 1 million euros with:
US funds specializing in HR Tech such as Third Kind (which invested in Notion) and SV Angels (which invested in Slack),
a dozen business angels including Philippe Gelis (Kantox), Stéphane Maarek (Connduktor) and Christophe Amouroux (Twelve Consulting).
"We will develop new functionalities in our platform, in particular a specific module for companies that have adopted a 4-day working week", said the developers of Joséphine de Leusse. The workforce is expected to increase to 20 people by 2023.
Created at the end of 2021 by Josephine de Leusse, Edouard Bouyala and Barthélémy de Mazenodthe SaaS platform can be operated in 3 ways:
manage its structure, integration of company and team policies (number of teleworking days, reception capacity, rituals, etc.),
plan individual and collective organization (optimizing office space),
manage its offices and its HR policies through data (space occupation, carbon impact, employee use, etc.).
The economic model is based on a subscription system per active user to access the platform accessible from 2 euros excluding tax per month. There are no associated installation or maintenance costs, says the m-work co-founder.
"Work flexibility becomes a competitive advantage. It is an asset for HRDs that gives teams a tool that is valued because it has value in conjunction with HRIS," mentions CEO Joséphine de Leusse.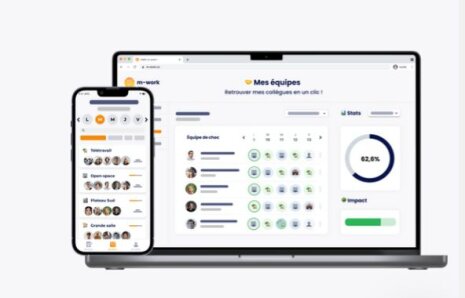 m-work: 20 client companies for 10,000 active users
After one year of existence, m-work has an initial portfolio of 20 clients with references such as:
Cegid (both customer and partner, especially for participating in the first promotion of the publisher's start-up incubator set up at Station F),
Crédit Agricole Île-de-France (as part of the transition to flex office with 1,200 users),
subsidiaries of Groupe Vyv.
In total, the start-up has a base of ten thousand users. In the field of collaborative work, m-work is in contact with American behemoths such as Microsoft Teams or Slack.
"m-work is complementary to Microsoft Teams, increasing collaboration for remote work while m-work aims to bring value back face-to-face"argues Joséphine de Leusse.
On a smaller scale, m-work coexists in Station F with another start-up that revisits the work environment in the era of hybrid work: Deskare, which raised 1.2 million euros in February 2022.
"Its offer is not too far from us, but it mainly targets remote first start-ups. For our part, we focus on large accounts that need more support towards hybrid work, " explains Josephine de Leusse.
For hosting its SaaS platform and user data in France, m-work works with AWS and Microsoft.