If you have relatives in the field of programming / computer science, or have a geek side, you must have heard of chatGPT? If not, a little remedial lesson.
What is chatGPT?
ChatGPT is an artificial intelligence (AI) based real-time chat tool developed by OpenAI[1]. It can be used to answer questions and provide information on a wide variety of topics, from art to quantum computing to medicine…
ChatGPT is able to continuously learn and improve its performance over time based on feedback from its users. This means it can adapt to your work style and your specific needs by answering questions that have already been asked of it through its interface.
Why is chatGPT different from classic chatbots?
To answer this simple question, why not ask the question to the main interested party?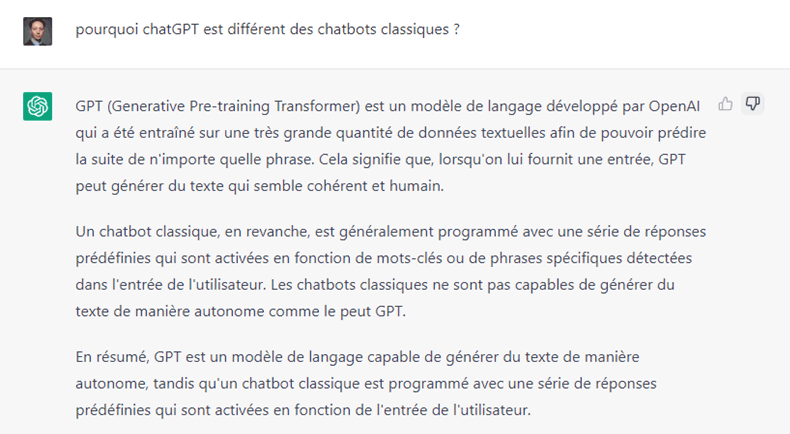 The answer of our interlocutor is quite surprising for a question for which a preformatted answer is unlikely to be prepared.
What are the differences between chatGPT and other virtual assistants, such as Siri or Alexa?
Again, let's ask our interlocutor: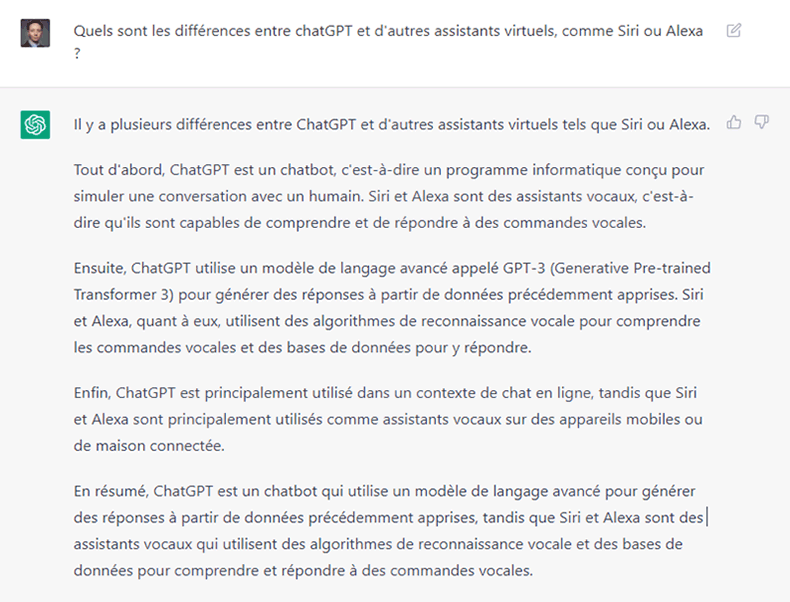 We note the nuance of the answer that requires an understanding of how a language model works. which is closer to the statistical analysis of the words present in a large amount of data than a simple query executed in a database, as we are used to doing in a simple search engine today.
chatGPT's contributions to chartered accountants and auditors
We asked our interlocutor again. However, the answers given are politically correct (in particular conclusion) but lack concreteness in our opinion, judge instead: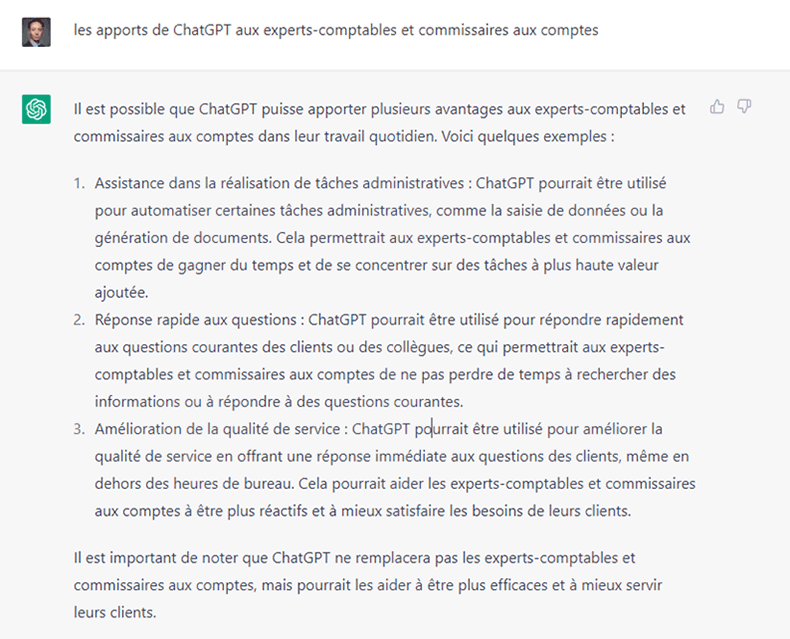 Based on this response, we have revised our article plan, and here are the contributions we see for our two professions: chartered accountant and auditor.
Documentary research
Thanks to its advanced intelligence, chatGPT understands users' questions quite naturally and answers them accurately and quickly. Finally, an accountant can, for example, ask a question about a complex tax rule, and chatGPT will immediately give him an accurate and detailed answer. This will allow information to be processed more efficiently and decisions to be made more quickly.
An improved virtual assistant 2.0
ChatGPT can also help us manage their time better. For example, it can be used to organize office tasks and appointments, allowing you to focus on the most important tasks and get them done faster.
We admit we used chatGPT last week to prepare a response email to an unscrupulous customer…
A welcome for the firm's new clients
Available 100% of the time and accessible on mobile, after a company-administered learning phase, we can think of a GPT chat even to answer the first recurring questions of our customers: when do I have to pay my VAT? What should I indicate on my invoice? What documents should I send to the company, and how often? What information should I mention in my expense report to recover VAT?
The training of beginners in the cabinet
Time, as well as collaborators, is a practice's most scarce resource. So, the company is recruiting to find room for maneuver. However, is it useful to note that beginners should also be trained…? With a connection to educational databases (hello Sup'Expertise?), we can imagine that chatGPT accompanies student employees, like students. The real problem is to have an intelligent administration of chatGPT so that the answers given are adequate and adapted to French accounting and tax standards. Will we incorporate the administration of an AI that is beneficial to our profession?
Connectivity to our software/FEC
ChatGPT can also be used to provide practical advice and recommendations to clients after initial verification by the accountant, utilizing his vast body of knowledge on a variety of accounting-related topics. This can be particularly useful for clients who have specific questions or concerns and aren't sure how to present them to the accountant. ChatGPT can conduct an interview to develop the client's issues and not stop at too general questions from the client: how to pay less tax and social charges….
The limitations of chatGPT?
Although chatGPT is a real surprise at this stage, there are some limitations to keep in mind.
Limited internet interactivity
ChatGPT does not have internet access and cannot browse the web to find information. It simply relies on its previously learned database to answer the questions posed. Thus, the management model remains limited to the knowledge and information available and cannot deal with the updated knowledge available on the Internet.
Model adaptation is not possible
To our knowledge, chatGPT cannot connect to our accounting databases, For example, it cannot connect to Sidonie (documentary database of the CNCC) or to specialized publishers: LexisNexis, RevueFifiduciaire, Éditions Francis Lefebvre.
quality versus quantity
ChatGPT is trained on a massive database of articles and web pages. Knowing that writing quality content is more complex and resource consuming than writing lower quality content, one can easily imagine that in the absence of weighting response resources, the responses provided by chatGPT are poor quality or even wrong.
Text-only interactions
Right now, the tool is only available through a website where you have to write a question and/or get in touch. Because of the voice recognition capabilities of voice assistants, the connection between the two paves the way for more human interaction through the use of voice.
The absence of rephrasing by chatGPT
Between two people talking to each other, there is naturally a reformulation phase to make sure that the other person has understood the question correctly. In the case of chatGPT, we may regret not proposing a reformulate when the question is imprecise. This ability will make it possible to improve the relevance of the given responses.
What compensation for data authors?
ChatGPT is trained from a lot of available data. However, it is unlikely that the authors of this data have given the right to exploit it to train an AI learning engine. Because of this, one might wonder about the possible extension of the right author.
Between inspiration and copy: what border?
ChatGPT trained from a large amount of data, can we speak of inspiration on the part of AI or of copying?
From a computational perspective, AI learning remains a black box. In summary, we see that it works, but we don't really know the reasons…
Cynically, humans are inspired and AI is copied?
Notice to future memoirists
In view of the initial tests, one might think that chatGPT is the holy grail for candidates for a diploma in accountancy (DEC). In fact, we can ask him to suggest a plan or find a problem: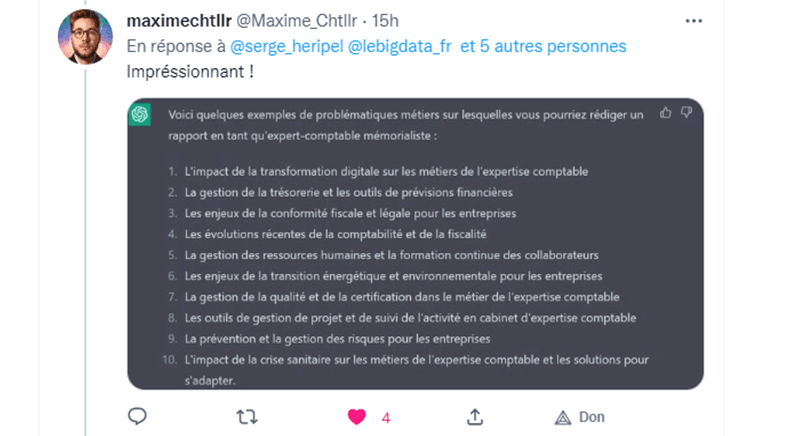 Even if chatGPT found the idea, he certainly wasn't the one who had to convince the jury during the DEC defense. On the other hand, no one suggests writing a dissertation related to chatGPT!
Undeniably, chatGPT has brought something new to the world of AI that specializes in natural language processing. It remains imperfect, but an important step has been taken. From now on, it remains to be seen how it will actually be integrated into our offices and/or our business tools. There is no doubt that this integration will be fast if our business software publishers get hold of it…
[1] OpenAI is a US-based, profit-capped company.