Mercedes-Benz accelerates into the industrial metaverse with Nvidia
German automaker Mercedes-Benz has dived into the industrial metaverse. The group relies on Nvidia's Omniverse platform and its digital twin solution to design, plan and optimize its factories. The factory in Rastatt, Germany will be the first team.
Mercedes-Benz will use Nvidia's Omniverse platform to further digitize its vehicle production. The rapprochement is, it couldn't be more logical, as the two actors have known each other for several years. The automotive group actually concluded an agreement with Nvidia in 2018 on the development of autonomous vehicles but also the integration of technologies such as AI. Due to a relatively busy roadmap, the two partners regularly announce several innovations. In 2020, Mercedes announced that it wanted to accept the American firm's on-board systems in its latest models. For the German manufacturer, everything depends on the customization of this system, the Drive AGX Orin, with the inclusion of dedicated software so that customers can regularly update this solution to obtain additional improvements function
This week, the two actors took advantage of CES 2023 to announce the strengthening of their partnership and to improve the production of the car. "Mercedes-Benz takes a digital-first approach to vehicle production by using the Nvidia Omniverse platform to design and plan manufacturing and assembly lines. By using Nvidia's AI and metaverse technology, the automaker can reduce waste, lower energy consumption and improve quality," said the graphics and network accelerator specialist. Omniverse, the real-time graphics collaboration platform created by Nvidia, is used for applications in the visual effects and industrial simulation industries with a digital twin. Therefore, the automaker's latest announcement further places these technologies in Mercedes-Benz's development process .
Mercedes-Benz adopted Omniverse for vehicle assembly and production planning. (Credit: Nvidia)
The digital twin, an important production tool
Building a car is a massive undertaking that requires thousands of parts and employees working together. Obviously, any supply chain or production issues can lead to costly delays. Furthermore, when car manufacturers deploy a new model, they must reconfigure the layout of production plants to take into account the design of the future vehicle. A change that could lead to the cessation of production of other vehicles, and disrupt the global production chain. In this sense, Mercedes-Benz relies on Nvidia to counter any possible problems at this level.
The company plans to launch the creation of its next platform dedicated to electric vehicles at its factory in Rastatt, Germany. For those in the know, the site currently produces the A and B Classes as well as the GLA compact SUV and the all-electric Mercedes-Benz EQA. The plan will be rolled out in other parts of Mercedes-Benz's global production network. Note that the manufacturer will run the Enterprise version of the platform that has received a major update.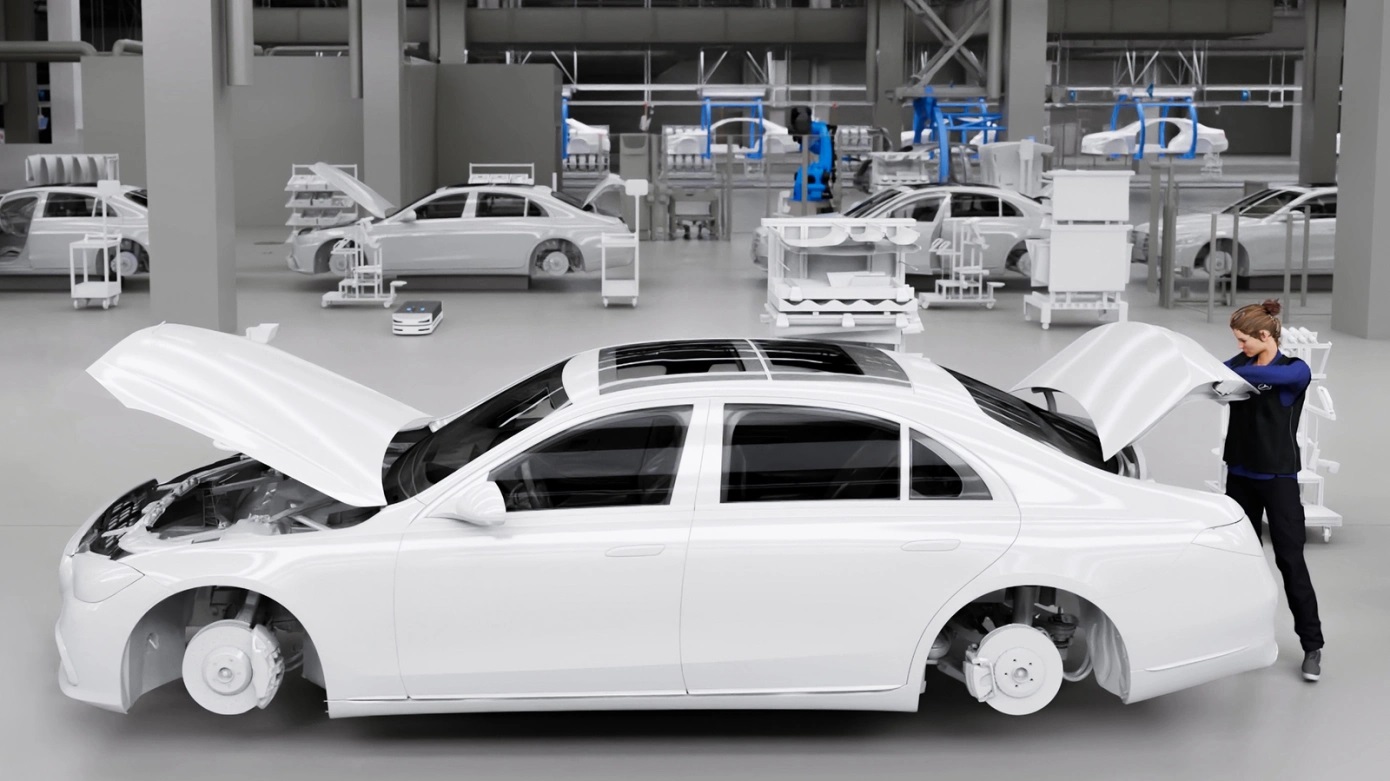 Mercedes-Benz has long been working with Nvidia to develop software-defined vehicles. Its future fleets will be built on Drive Orin centralized computing, with enhanced driving capabilities, tested and validated on the Omniverse-based Drive Sim platform. (Credit: Nvidia)
Nvidia, a ubiquitous player in the industry
Nvidia is already working with other industry players on digital twin technology. Its Omniverse platform is notably operated by Digitale Schiene Deutschland (DSD), part of German national rail operator Deutsche Bahn, to increase network capacity without building new tracks. The creation of a first digital twin on a national scale made it possible to fully simulate the automatic operation of trains in an entire network. In this solution, DSD aims above all to develop high-performance perception and prevention and incident management systems to identify and efficiently respond to irregular situations in daily railway operations. "Using NVIDIA technologies, we can begin to realize the vision of a fully automated train network," said Ruben Schilling, who heads the collection group at DB Netz, part of Deutsche Bahn.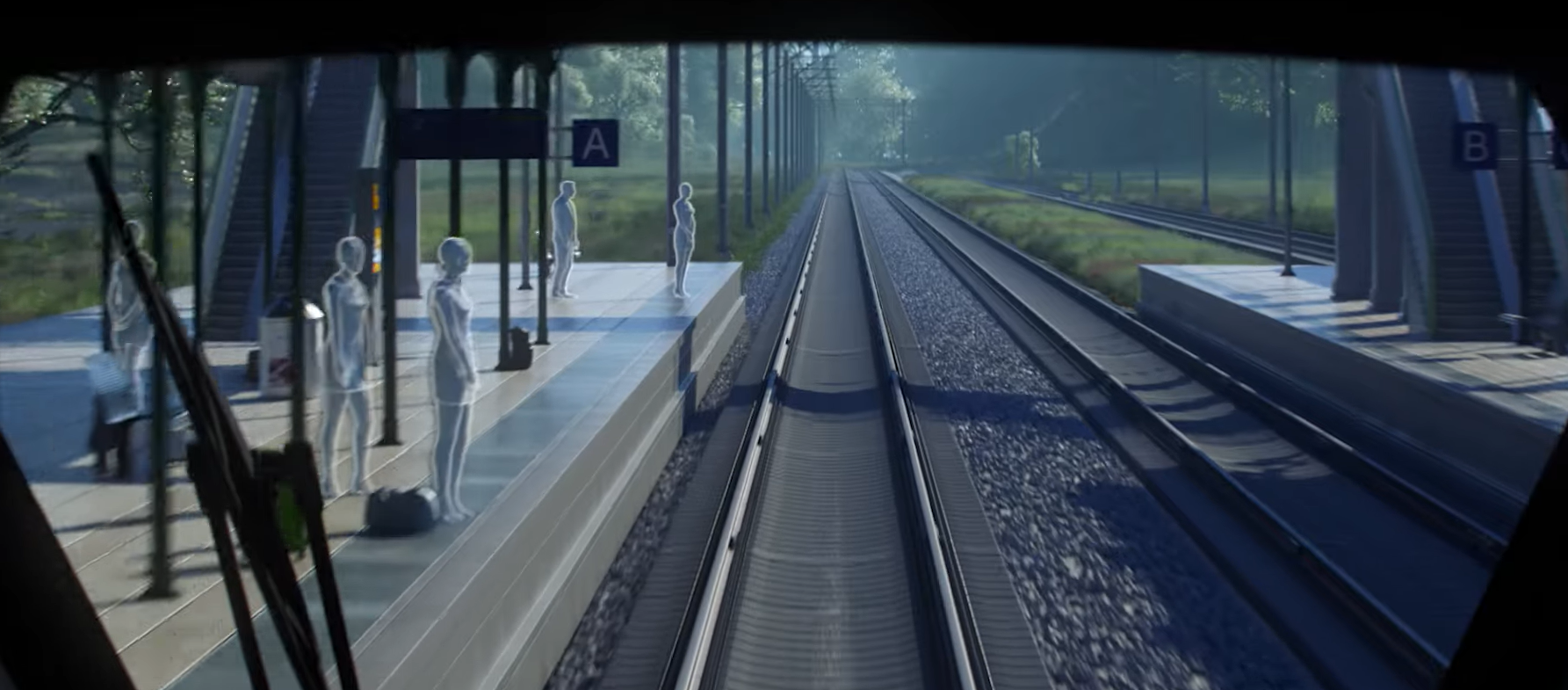 Digitale Schiene Deutschland (DSD), part of Germany's national rail operator Deutsche Bahn, is working with Nvidia to improve its network. (Credit: Nvidia)
Siemens also became interested in the digital twin technology developed by Nvidia. The German industrialist connected its Xcelerator solution to the AI-based real-time simulation engine, Omniverse, to design digital twins in real time with a high degree of fidelity. Now called the industrial metaverse, this technological symbiosis should bring a real advantage to 3D design and collaboration to visualize a production line in action, for example. Ultimately, Nvidia and Siemens want to deploy this industrial metaverse in any type of business and in a variety of applications.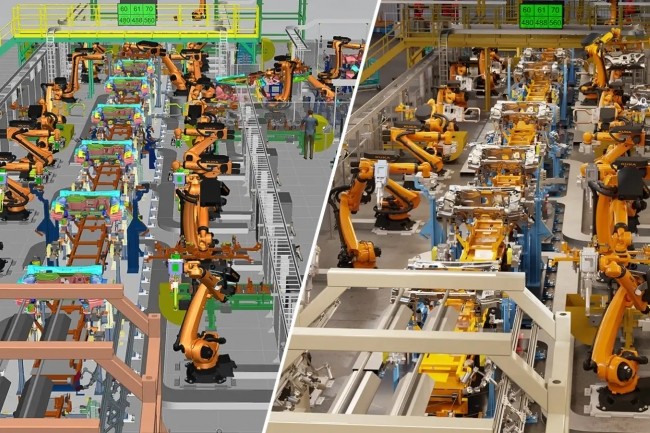 The connection between Siemens Xcelerator (left) and Nvidia Omniverse (right) will allow customers to build high-fidelity, closed-loop design digital twins. (Credit: Siemens/Nvidia)
With Foxconn, Nvidia is gaining speed
On the launch day of CES 2023, Nvidia also took the opportunity to announce a partnership with Foxconn to develop autonomous vehicle platforms. According to Reuters, the Taiwanese subcontractor said it will make electronic control units (ECUs) for cars based on the Drive Orin chip. This merger will allow it to intensify its efforts to meet the growing demand for chips intended for autonomous and connected vehicles.
Beyond powering some of Apple's flagships, Foxconn makes electric cars for Lordstown Motors and has a contract to build Fisker's second car model, the Pear. For its part, Nvidia sees a $300 billion market opportunity in the automotive sector and reported third-quarter revenue of $251 million for this segment. Future vehicles resulting from this collaboration will contain computers based on Drive Orin and Drive Hyperion sensors.