Mathieu Mercier: History-geography cannot ignore Chat PGT
"Chat GPT will not replace the teacher". Professor of history and geography at the School Service Center of Kamarouska – La Rivière-du-Loup, in Quebec, Mathieu Mercier wants to be reassured. The new Chat GPT3 artificial intelligence application is scary. But, for Mathieu Mercier, there is no escaping it. We will deal with it. And he opens the way for that.
Panic in the staff rooms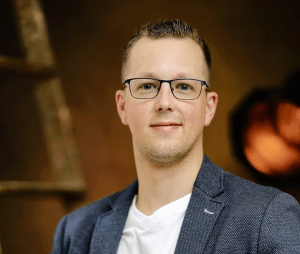 It's starting to look like mass panic. Behind Quebec, French teachers are starting to discover Chat GPT3. This artificial intelligence tool quickly writes authentic essays that have all the equipment of the best student copies. Worse, they differ from one user to another making it difficult to detect plagiarism. Again, IT seems to mock teachers, threaten them with their practices, their professional culture and even whistle a funeral march for the teaching body.
The same fear is felt in Quebec, says Mathieu Mercier, professor of history geography and also digital referent of his establishment in La Rivière du Loup, a little north of Quebec. "Students know ChatGPT," he told us. "They saw it on Tik Tok or Facebook. They know that artificial intelligence can help them in their work. Teachers also know that it exists and think about its inclusion and also its censorship. Only a few use it in class.
For a positive use of artificial intelligence
Because, in his blog, Mathieu Mercier shows that ChatGPT can be useful for teaching. "This artificial intelligence is scary and that's normal because it provides knowledge," he told us. "But I see it as positive because the teacher is not being replaced. ChatGPT, when asked, does not hesitate to create new sources, citing authors or characters that do not exist. It takes an expert to detect lies told by artificial intelligence. When we get interested in this artificial intelligence, we see its flaws."
For him too, ChatGPT can help to find knowledge to prepare a lesson. The tool answers questions easily and the teacher can validate (or not) the answers before showing them to the students.
"On the other hand, it proves the efficiency of intellectual operations," added M Mercier. "For example, we can make mistakes. Artificial intelligence can be asked to see if a student's answer is consistent with the resources. Thus, ChatGPT provides quick feedback on each student's work, which can be noticeable in a class of about thirty.
Developing our assessment skills
Certainly, ChatGPT challenges the status quo of knowledge. "But in Quebec, we are not so much involved in the transmission of knowledge. We are more in the assessments of the student's skills based on knowledge. The student must be able to mobilize knowledge to meet the necessary skills". This type of analysis limits the impact of ChatGPT. "We are coming out of a pandemic context where we are analyzing knowledge from afar," explained M Mercier. "If ChatGPT comes out in 2020, I would be worried. Since then, analytical skills have evolved".
For Mathieu Mercier, we cannot escape artificial intelligence tools. "Evaluation skills must adapt. It is up to teachers to change their evaluation according to social and technological evolutions. Students can be assessed on created, digital content that avoids the dangers of ChatGPT. Because we cannot escape artificial intelligence. Since ChatGPT appeared at the end of November, two more tools have appeared. Tome.app, for example, allows you to create a Powerpoint presentation from a topic. It takes less than a minute and is revolutionizing our evaluations of oral presentations. Canva has a feature that creates an infographic using Chat GPT. So even if the school institution prohibits this tool, it is impossible to counter. We will have to live with this and change our assessment practices to assess the skills of our students".
Interview by François Jarraud
GPT chat and history teaching: a presentation by M Mercier
A padlet directed by Simon Duguay
GPT chat