[CRITIQUE] Terrifier 2: A declaration of love for the slasher
Now, Terrifier 2 has finally arrived in our dark rooms. Distributed by ESC in collaboration with Shadowz in one hundred cinemas and prohibited for children under 16, Damien Leone's third feature film is a great slapstick, sprinkled with the charm and substance of horror cinema from the 80s and 90s For lovers of the genre and especially. of slashers.
Origin of the Terrifier
Damien Leonea special effects craftsman, began his career with two short films, made in 2008 and 2011, the last one being Terrifier and where we see the bloodthirsty and cynical killer, Art the clown, for the first time.
A clownish character who is both comical and sadistic with a white and black look, with a clear taste for ultra-violence, Leone will further develop the universe of his killer in All Hallows' Eve with limited means.
Thus in 2016, he made a feature film. With a ridiculous budget of 35,000 dollars, the director manages to get noticed. Art the clown – played by another actor this time, namely David Howard Thornton – is even more magnified, in its background and its operations with a very sadistic murder – a woman suspended and tied, cut without censorship is a dirty and terrifying image.
Despite its low budget, the film manages to distinguish itself through a photography with red and blue colors, a play and a more than correct editing. A smart B series.
The foundations have been laid. Art the Clown's intentions, its true origins are still in doubt.
David Howard Thornton's brilliant performance
if Scary 2 was a worldwide success, he undoubtedly owes it to the actor David Howard Thornton as Art The Clown.
With each manifestation, it transforms itself. Especially in mime and non-verbal David Howard Thornton very good indeed. His body language, his mannerism, his dark and terrifying humor, the way he preys and punishes his prey, pushing them to the side, playing with them, is both shocking and extremely unhealthy; The interpreter is having a field day.
A real crash test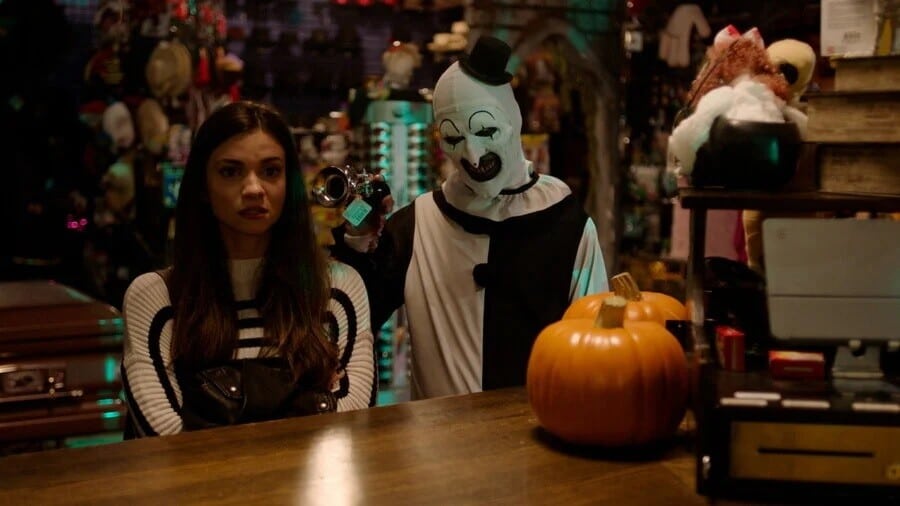 In an almost staggering amount of time for the genre (a 2H18 slasher is unheard of), Scary 2 was one hell of an experience.
If we can criticize that the second opus lasts an hour longer than its predecessor, it is not without. Unlike the first part, we focus more on the characters, most of them new, like with Sienna, played by the actress. Lauren Lavera, even this scary and mystical character "the little pale girl", a girl with an evil appearance, deadly like Art. The latter two enjoy walking on their victims.
New tracks have been established, and they question us more. Who really is Art the Clown? where is he from? Why does he have a penchant for ultra-violence? What links does he have with the protagonists? Is he connected to Sienna's family?
In this sequel, the show is there, and what a festival!
Murders are unheard of violence; Everything goes there: dismemberments, énucleations, exploding heads, facial attacks with acid and worse. Art the clown goes very far in the mise en abyme of his disastrous acts. And this is something quite amazing for our time, because Scary 2 was not subjected to any censorship, and was passed in silence. Everything is displayed.
Pure horror with lots of gore, shock, and a touch of fantasy, including a scene not remotely reminiscent of a Freddy Krueger. The photograph, like the first, features red and blue tints, this time more advanced – assumed giallo – the presentation, cutting and editing are effective.
Some will think so Scary 2 can be shorter by about twenty minutes for example, Damien Leone he didn't mean it. The final cut is quite reasonable, knowing that Terrifier 3 is already formal, and it does not intend to stop there.
Released in the United States in October on Halloween, it caused a sensation. First of all, let's remember that Terrifier 2 only cost $250,000 and brought in over $12 million, which is huge. One wonders in a very small way, how this director was able to make a film for us, knowing that the latter is varied in its locations, from beginning to end, in the image of the murder scenes its, developing traditional knowledge around Art, or even in the duration of its feature film.
Furthermore, it should be added Damien Leone did a tremendous job: he was in almost every field: director, screenwriter, editor, co-producer, sound designer, and special effects designer for his feature film.
Blames, faults, one can make him some, and he has some; the absence of a cult horror theme, for example – despite the original soundtrack with a good sound – such as for Halloween, Friday the 13th or even the claws of the night.
However, and if we compare with the current productions of horror cinema for several years, the film goes off the path. An uncomfortable, fun, sadistic, funny and very effective experience. Art the clown is truly the new icon of modern horror cinema. Scary 2 is something you don't really see in movies anymore, it's become very rare now. So, we can say thank you to Damien for proposing such a horror film for fans of the genre.
Conclusion
A magnificent sequel, crushing the first in the name, with ideas, black humor, triumphant scenes, engaging characters, and visual delight from start to finish. The best slasher in years.