Video test – MG4 Luxury: electric at the right price
With its starting price of less than €30,000 (not including bonuses), the MG4 has broken the electric vehicle market prices. What is the top-of-the-range Luxury model that costs less than €36,000? Response after a week on the wheel.
During our first test of the MG4 Standard of 51 kWh in October 2022, we were very surprised by the excellent price/performance ratio of this 100% electric compact. Our first test with measurements of the 64 kWh Luxury version also showed that it was largely on a par with its European competitors. So we hope to bring it back on a long-term one-week trial with a return trip from Paris to Strasbourg in more difficult weather conditions.
An original and well motorized MG4.
If the first Chinese cars imported to Europe lacked originality and were vainly inspired by European products, the MG4 completely changes the situation. The Chinese compact from SAIC that flies the English flag shows a style with sharp lines with a sharp front end and a massive rear section that is definitely not unified but gives it a real personality. In its Luxury version, the MG4 is based on 17-inch rims (covered by hubcaps) and receives remote LED turn signals in the front bumper as well as a grille with active shutters to promote aerodynamics or cooling. At the rear, the prominent optical unit that acts as a spoiler adds decorative LEDs while the roof includes two additional fins. The Luxury version also includes electrically folding mirrors. On the mechanical side, this model uses a brand new "skateboard" type platform with a battery pack in the middle of the floor and a motor integrated into the rear axle. The permanent magnet synchronous motor identical to the standard version offers the same torque value of 250 Nm but its power ranges from 170 to 204 hp. The battery pack is also different because it is based on NMC (Nickel Manganese Cobalt) type cells with a capacity of 64 gross kWh, that is, 61.7 useful kWh, while the standard version is content with 51 gross kWh with LFP (Lithium Iron Phosphate) type. cells.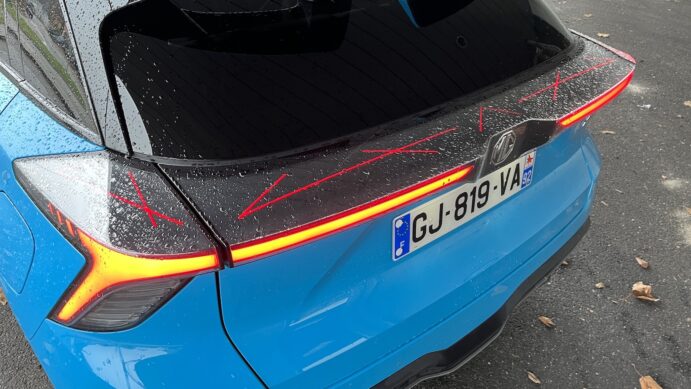 A richly endowed and well-built MG4
In addition to its original design, the MG4 can count on strict manufacturing quality with thick seals and regular and precise bodywork and tool adjustments. The paint is perfectly applied even on the underframes and the sound of the doors when closing remains excellent. On board, the hard plastics at the top of the storm doors affect the perceived quality, but the dashboard is decorated with padded materials and the abundant storage space includes a non-slip coating (except for the small glove box unfortunately). Glossy black veneers leave fingerprints just like mirrored screens. On the multimedia side, the small touch screen does not offer a commendable response, the ergonomics of some controls are not always obvious and it is absolutely necessary to connect your smartphone with a wire to benefit from on Apple Car Play or Android Auto. But only Teslas or cars with Google Automotive (like Renault Megane or Volvos) do better. The 6-hp car radio broadcasts a clear tone with fairly strong bass that doesn't overwhelm but has no "fader" to distribute the sound. On the upholstery side, this Luxury version is decked out in a fairly basic cloth and imitation leather covering that isn't really any more rewarding than the standard version's cloth covering. As for the power adjustments, they are reserved for the driver who cannot adjust the lumbar support. The main shortcoming, however, remains the lack of height adjustment on the passenger side.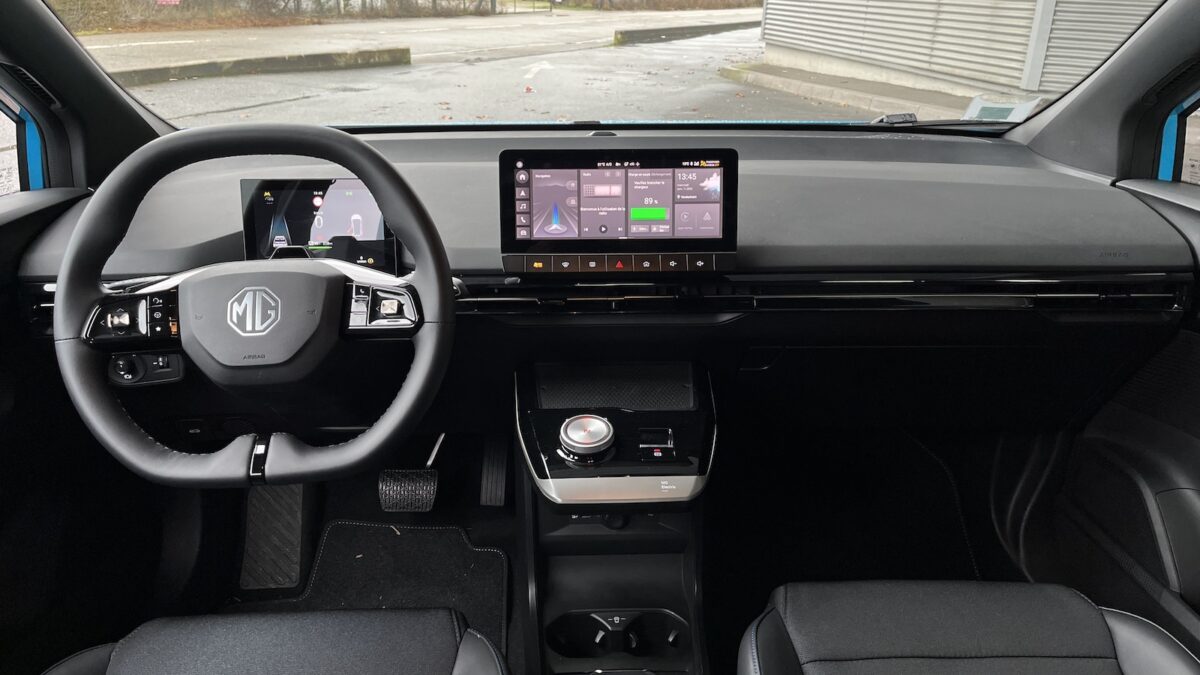 A very welcoming MG4
Due to its large dimensions for a compact (4.29 m long and 1.84 m wide), the MG4 provides good roominess with elbow room greater than the electric Renault Mégane. Rear legroom is also very open and the well-padded middle seat allows the transport of three adults in the back. Extra wide rear doors with large tinted windows make access on board easy. Unfortunately, there are no grab handles, ventilation nozzles or even lights. The trunk announced for 363 liters in the Standard version increases to 350 liters in the Luxury which includes a Subwoofer under its floor. An average volume compared to a Renault Megane that announced 440 liters. But in fact, if the trunk of the MG4 is less dug, it is deeper and above all more practical thanks to its lower threshold and its removable floor. It's also wider behind the wheel arches and helps create a flat surface when the bench seats are folded down. The double bottom is not big but enough to put its type 2 cable. On the other hand, there is no front trunk where the standard heat pump takes up a large part of the space under the bonnet.
The graceful and efficient MG4 Luxury
Thanks to its low center of gravity and optimal weight distribution, the MG4 provides great driving pleasure. With decent performance, it provides excellent traction when exiting corners and can even be playful. The well-calibrated steering is coupled with a progressive and slightly biting brake pedal that provides a natural feel and good progressiveness. Regenerative braking offers four types of settings, including an automatic mode, but remains relatively weak and does not allow the vehicle to come to a complete stop. In addition, a slight lag time is felt between taking your foot off the accelerator and the vehicle slowing down. Less pleasant than a Kia, a Hyundai or a Renault Megane. Suspensions, on the other hand, provide a good compromise between maintaining body and filtering out roughness. Sporty driving enthusiasts will no doubt find them buoyant, but body roll and pitch remain limited. And if the followers of the old Citroën judge it a little dry at low speeds, the shock absorbers did not knock their stops even when riding a bad speed bump with five people on board. The rear passengers of a Tesla Model 3 or a Megane will shake more. On long trips, the comfort level seemed satisfactory to us, though we would have liked more lumbar support. In terms of soundproofing, rolling noise is heard more than aerodynamic noise, which is instead contained even above 130 km/h. Officially restricted to 160 km/h, the MG4 easily reaches 170 km/h on the metro (168 km/h on GPS) and provides clear pick-ups. Acceleration delivered in 7.9 s from 0-100 km/h is enough to get started right away and remains consistent even when unladen as mentioned Soufyane in his first test.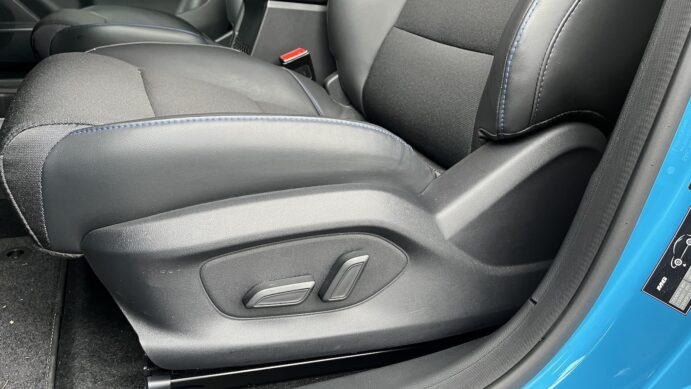 A greedy but fast loading MG4.
During its test in Aix en Provence in October, Soufyane noted a very good consumption of 23.7 kWh / 100 km at 130 km / h. But on our trip between Paris and Strasbourg in January at night in the rain, our MG4 proved more greedy with an average of 27.5 kWh/100 km. Even in town, we struggled to get down to 19 kWh per 100 km, while Soufyane was able to show 15 kWh/100 km. Note, however, that we left the air conditioning on all week and especially the battery preheating system which proves to be energy intensive and where the disconnection button is hidden in a sub-menu. Finally, our motorway autonomy is limited to 210 km, which requires us to make three 20 minute stops between Paris and Strasbourg to recharge at very expensive direct current motorway terminals (0.70 cents per kWh) . That said, the MG4 Luxury charges quickly. Although the manufacturer announces a maximum charging power of 135 kW, we reached 142 kW on several occasions and the power remains high until the battery reaches 50%. Then the decrease in power remains gradual, allowing you to fill from 10 to 80% within 30 minutes.
Bugs to be fixed in early MG4s
During our week-long test, we noticed some juvenile defects that the manufacturer is aware of and intends to correct through a remote update or workshop return. The first downside concerns the driving aids, which lack fluidity and precision. The line keeping aid tends to pull too far to the right and requires steering effort to correct the trajectory which makes it uncomfortable. The heating also lacks precision and requires selecting a higher temperature (28° for 21°) and turning on the air conditioning to work. Another concern on the display is the pressure sensor that refuses to reset after changing a tire and the on-board computer whose consumption cannot exceed 28.9 kWh. Finally, we noticed that alternating current (AC) charging was interrupted whenever the doors were unlocked. Very painful especially in public terminals! Hence the importance of being well connected to the car through a smartphone application to monitor the charge remotely.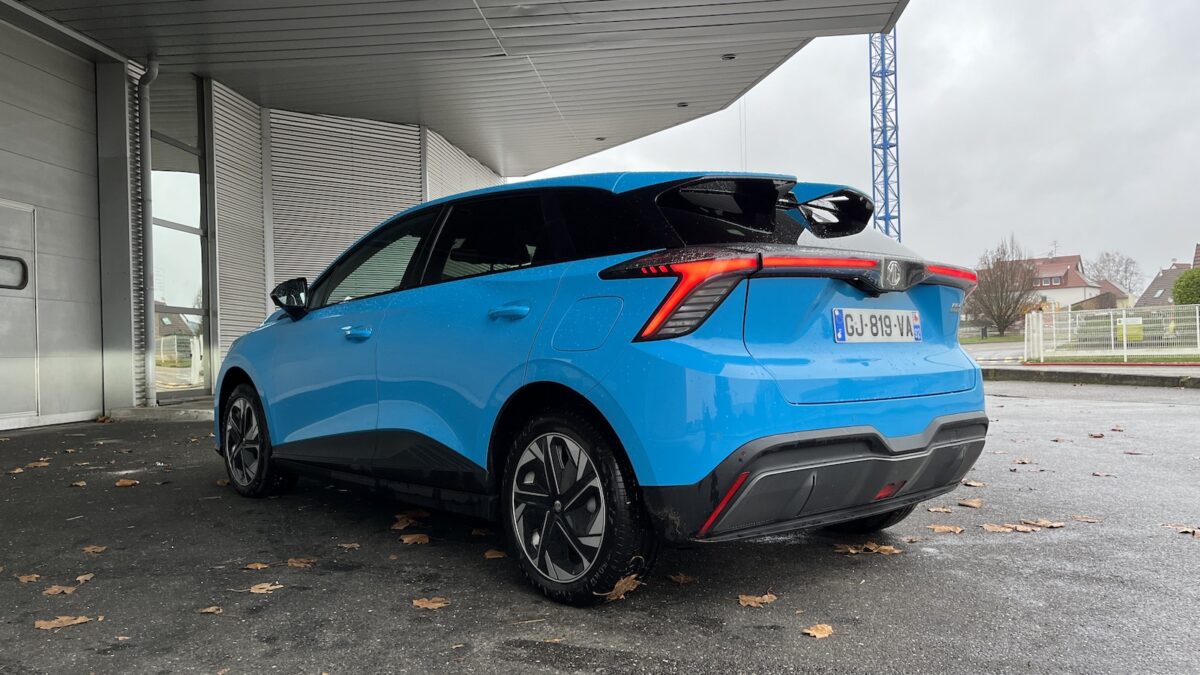 The MG4 Luxury is sold and guaranteed for 7 years
Charged at €35,990 in its Luxury finish, the MG4 claims to be €10,810 less than a Renault Megane EV60 with equivalent equipment levels. An astronomical difference that the French cannot justify even if its multimedia system, its regenerative braking and its driving aids are more advanced. The MG4 is actually just as comfortable, offering relatively close autonomy, comparable driving pleasure and better accommodation. Added to this is a 7-year or 150,000 km warranty and a network of more than 130 dealerships in France. Note that the Standard version with a small 51 kWh battery is available from €29,990 with a good level of equipment, while the Comfort version with 63 kWh starts at €33,990. The claims are more in line with the purchasing power of households than those proposed by European manufacturers who have increased their prices in order not to overshadow their thermal offer.
Also read
Video test – MG4 Luxury: electric at the right price