The eborn network continues to grow
Present in 11 departments in the southeast of France, the eborn network continues its dynamic deployment and will have 1,450 charging stations by the end of 2023.
A pioneering network launched by energy unions
Resulting from a common desire of energy unions to support the emergence of electric mobility by connecting their territories, the eborn network was created in 2015 at the initiative of five departments. It now brings together 11 departments divided between the regions of Auvergne-Rhône-Alpes and Provence Alpes Côte d'Azur.
A network managed by DSP
Since 2020, the network has been managed through a Public Service Delegation (DSP) awarded to a project company that brings together Easy Charge, a subsidiary of Vinci dedicated to electric mobility, and the Ecological Transport Modernization Fund ( FMET). ). Completed over 8 years, from summer 2020 to summer 2028, this DSP is based on a model similar to that of Bélib in Paris. Besides operating and maintaining the network, Easy Charge also supports investment in infrastructure.
Continuous deployment
Although it already has 1,225 terminals spread across 11 departments, mainly 22 kW AC, the eborn network will continue to grow. For 2023, the goal is to reach 1,450 terminals.
" Initially, we are in a networking logic that aims to provide maximum municipalities. The idea is to have a balance between urban and rural areas to offer the best quality of service. From now on, we will strengthen the network by focusing on areas where installations have the greatest demand. summarizes Eric Mendels, subsidiary manager of Easy Charge. " We are not the only decision makers. Unions and municipalities confirm deployments and can suggest new locations to us. There is indeed complementarity! We also listen to users with a dedicated website where people in the procurement process can refer to projects in progress and express their needs. From the three requests in the same area, we started opportunity studies that are likely to lead to new deployments he continued.
The 24 kW AC/DC for a new standard
On the infrastructure side, eborn also adapts its infrastructure to the market reality. Although the first charging stations mainly used 22 kW AC, reflecting the technical configuration of the Renault ZOE, which was then the best-selling electric car on the market, future deployments will mainly be based on 24 kW AC/ DC charging station.
Tri-standard, each terminal is equipped with two charging points. Intended for alternating current charging, the first combines a type 2 socket (22 kW) with an E/F type socket while the second, dedicated to direct current, has two attached cables: Combo and CHAdeMO. A configuration that makes it possible to meet all electric vehicles sold on the market.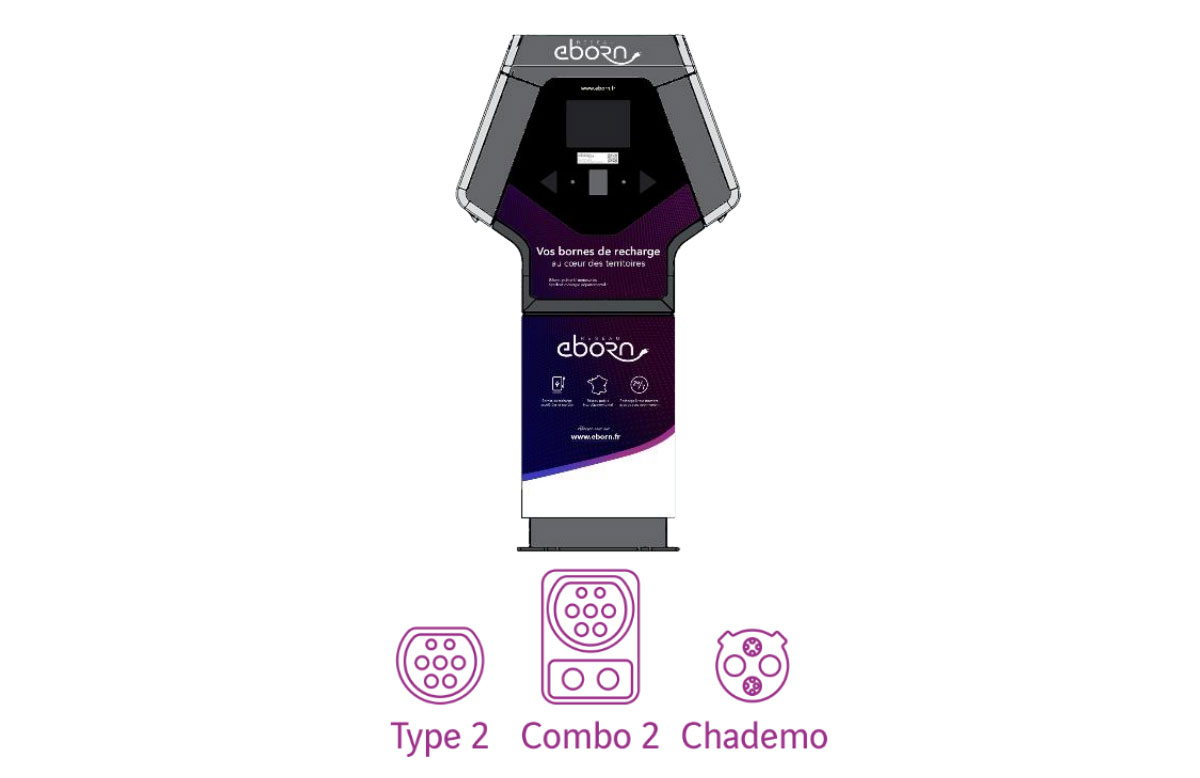 Attractive pricing
To appeal to as many people as possible, eborn offers two subscription options that allow access to its network at particularly attractive prices:
Invoiced at €13/year, the basic formula gives you about a 40% discount compared to the rate for "non-subscribers".
Based on a €47/month package, the second is aimed at heavy riders and includes 250 kWh of energy. "If exceeded, the basic formula is applied" refers to our interlocutor.
Formulas that are highly appealing to users. "We are at an acquisition rate of 150 to 300 subscribers per month depending on the season. We are at 4,100 subscribers at the beginning of 2022. We already have 6,700" Eric Mendels number.
A general CB payment
Except for some departments, almost all terminals in the network are equipped with banking terminals, whether they are fast or accelerated terminals. " In some departments, 25 to 30% of transactions are carried out by bank card " emphasis on our interlocutor.
In parallel, eborn has its own mobile application. Making stations easier to identify, it also allows subscribers to track their billing history.
Subscribe to the eborn network