JOL d'or – GOTY 2022 – The results
The trend in the number of titles cited continues its downward trend: 218 titles this year (compared to 225, 262 and 280 in previous years). Fewer and fewer games making an impression? Can. In any case, unlike last year, there was no suspense, the winner dominated the results from start to finish. A bit like Hades two years ago, but more noticeable. One thing is certain: we have more headlines this year, compared to previous years. Many of them can boast of being number 1, but… there can only be one!
But let's start with various additional categories:
Soundtrack of the Year
Mmmh… Four winners this year, because three games have exactly the same number of points, but one stands out with an extra vote so, without further ado:
Tied for 3rd with 26 points: Xenoblade Chronicles 3 and Warhammer 40,000: Darktide.
For the first, many composers worked on the title to reach around 140 titles that make up the game.
The Music of Warhammer 40,000: darktide was directed by Jesper Kyd who translated very well the heavy atmosphere of the universe of Warhammer 40k. The Dane, who works on game OSTs with increasing success (AC: Valhalla, Dune Spice WarsVermintide, Borderlands 2, State of Decay 2) mixed orchestral with electronic beats and it goes perfectly.
2nd with 26 points, but one more vote: Triangle Strategy
Composed by Akira Senju, who is better known for anime osts (Full Metal Alchemist, Mobile Suit Victory Gundam, etc.), this Japanese managed to mark this year with an OST in line with video games.
1st with 62 points: Elden Ring
Yes… that's good Elden Ring absolutely dominates this category. The soundtrack was composed by Tsukasa Saito who previously worked on Sekiro, Dark Souls 3, Bloodetc., which keeps putting its foot in this kind of game. And to success.
Best Art Direction:
Here too, places of honor are tight.
3rd: A Plague Tale Requiem with 26 points
The title of Asobo continues its tradition of quality with this second opus and manages to get the second place in this ranking, despite the many behemoths released this year.
2nd: God of War Ragnarok with 26 points (but more votes):
On a visual level, GoW Ragnarok ships heavy. It was enough to take second place in this category.
1st: Elden Ring with 90 points
The undisputed champion of this category is the Elden Ring, which is ahead of the rest. Visually perfect, unmatched.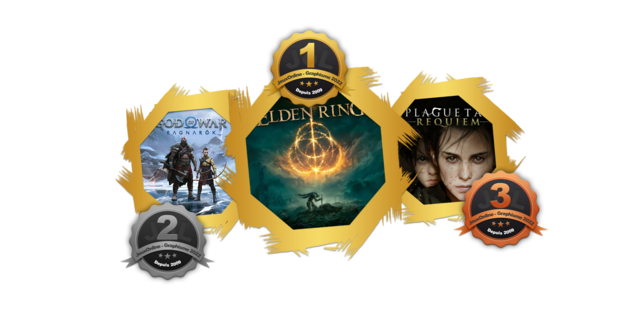 The best storytelling
Here, the category between the first three, which precedes the following, is more debated.
3rd: God of War Ragnarok with 33 points.
The latest episode of GoW had quite a bit of discussion about storytelling, anyway. Some criticized him for losing the spirit of God of War, others saw it as a more moving story. Enough in any case to take third place.
2nd: A Plague Tale Requiem with 38 points
Goty 2019's sequel comes in second here, despite the sometimes rather harsh criticism compared to the first opus. The surprise effect that probably played? Either way, it's a great result.
1st: Elden Ring with 39 points
Like I said, it's tight! But Elden Ring also won here with a small point lead.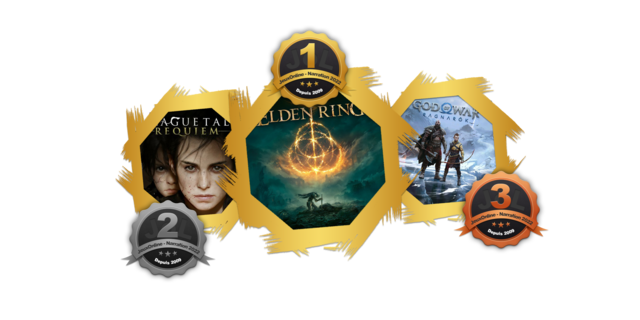 The best gameplay
Here, there is no suspense for the first place, but behind it fought hard.
3rd: Vampire Survivors with 15 points.
This title of défouloir did not have many voters, but when it was mentioned, it was the first.
2nd: Sifu with 25 points.
Released at the beginning of the year, it would surely have made a bigger impression if it had been released later, as its gameplay caused a stir on social networks when it was released.
1st: Elden Ring with 89 points
Like I said: no match. Elden Ring's onion-like gameplay completely dominated the category.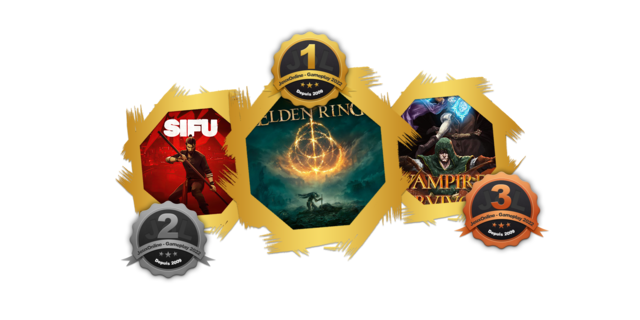 The best follow-up of the year
Aaah, so there, it was a very disputed category. Will the timeless No Man's Sky stay on top for a fourth year in a row?
3rd: Cyberpunk 2077 with 25 points
A lot of decried Cyberpunk 2077 has made an impression since its release. In any case, the follow-up was made to come and take third place.
1st tied: Path of Exile and…. No Man's Sky with 26 points
1 minuscule point above third, two titles are in contention for this trophy this year. No Man's Sky managed to keep his status, but shares it with Path of Exile which has always been close to this podium (6th, 5th, 4th) since its release, but left a mark in the year 2022.
Small mention also for Deep Rock Galactic which ends with 21 points and continues to experience a healthy evolution in its content.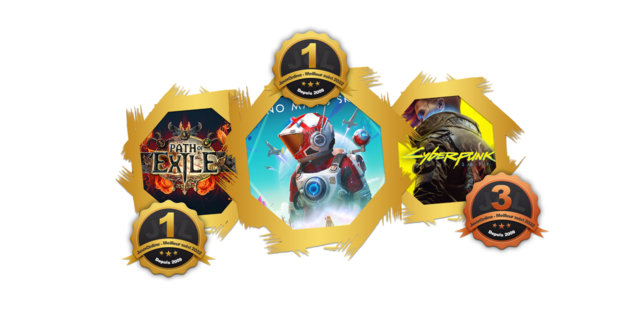 The Best JV Company
3rd: Square Enix with 20 points
They've alternated between hot and cold this year, but they took third place with a good start to the rest of the standings.
2nd: Asobo Studio with 21 points
Cocorico for Asobo to return to this ranking, but in second place this time with the sequelA Story of Plague.
1st: From Software with… 90 points
And the first PERFECT SCORE of all the Jol d'or… actually, 90 points out of 90 possible for the voters. The names From Software he is always placed 1st. This is completely new to JeuxOnline. And that's 3 times more points than any other winner in this category in recent years. It will be difficult to make a better day!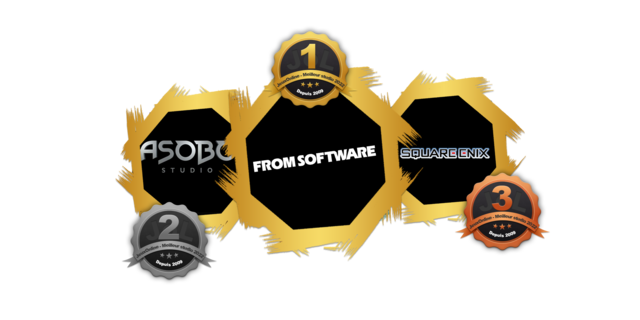 The most awaited game for 2023
Pretty tight category this year…
3rd: Diablo 4 with 41 points
The game of Blizzard is expected at the turn. With all the setbacks in recent years for Blizzard, this may be their last chance to regain their fanbase. Therefore, Diablo 4 will probably be in the GOTYs…or flops next year. There is no room for error.
2nd: Starfield with 42 points
Third last year, second this year… Starfield maybe it's next year's game?
1st: The Legend of Zelda: Tears of the Kingdom
It becomes clearer for the sequel to Breath of the Wildthe expectations of the players are more pressing for this title that the community has been waiting for three years (sixth in 2020, fourth in 2021). Nintendo should still hit. In any case, GOTY 2023 will be fought, we hope.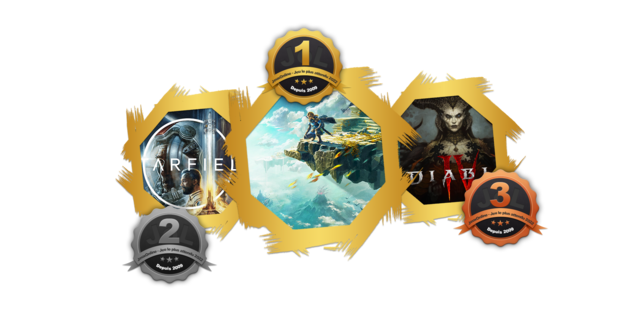 FLOPs
Not much suspense for the first three
3rd: The Callisto Protocol with 24 points
Big disappointment for this title that was announced not bad with quality trailers… but a final product that is less than shown
2nd: Gotham Knight with 27 points
The bad buzz of the game flooded the social media with harsh comparisons between this game and the Arkhams released many years ago … those hoping for a spiritual sequel were disappointed.
1st: Diablo Immortal with 40 points
A mobile game is rarely found in our tops… but Blizzard obliged, the disappointment was huge… and yet, the community expected the worst…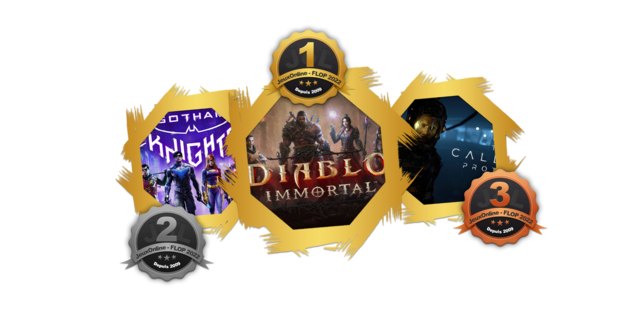 Now for the GOTY top 10:
9th tied: Mount and Blade Bannerlord with 32 points
After many years of development, long-term early access, the final version of the game successfully arrived in 2022. Indeed, entering the top 10 of the community after so many hours of development is no small feat . Usually, games distilled like this disappear from our radars when they're released (who said Baldur's Gate 3?)
9th tied: Marvel's Midnight Suns with 32 points
After the disappointing Avengers, the surprise is big this year in the titles Amazing. Midnight Suns was an unexpected surprise at this GOTY.
8th Bayonetta 3 with 33 points
The rest of the license made an impression, despite a smaller audience. A very respectable eighth place
7th: Xenobalde Chronicles 3 with 38 points
Here too, a very good ranking for a game that leaves the handicap of its exclusivity. But we know that the Move over is well represented in JoL
6th Stray with 44 points.
Very often mentioned among the top players (1 person out of 3), but not in the first places, the consistency of this game that marked the players raised it to a very good sixth place in this ranking. What a cute cat!
5th A Plague Tale: Requiem with 47 points
He can't do as well as his older brother, but despite everything the sequel does well with honor.
4th Tunic with 48 stitches
Also a very good result for the Tunic, which marked the people a little, but marked them more than the other titles of this classification.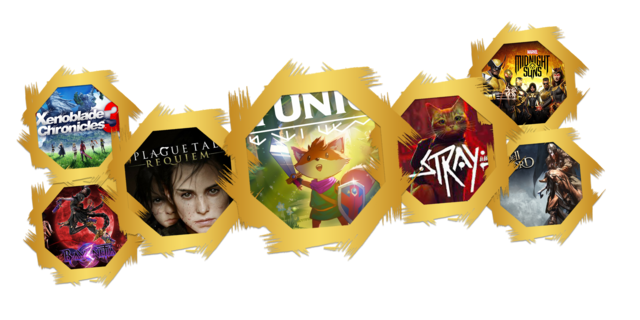 And the top 3:
3rd: God of War Ragnarok with 61 points
This latest opus from GoW finishes on the 2022 podium with a good third place and several lengths ahead of the peloton.
2nd: Vampire Survivors with 68 points
The surprise guest of this GOTY 2022. It's always been there, but it's here strong. This little game for less than five euros on Steam has clearly convinced the community of its potential and its replayability. A very good second place.
1st: Elden Ring with… 204 points
But there was no suspense in this year's all-around champion. The Elden Ring has it all: in every category in which it was nominated, it won.
204 points is the highest score ever recorded in our GOTYs… Congratulations to Elden Ring, congratulations to From Software. It's flawless never seen before in JeuxOnline.