Lac Blanc resort: a huge playground for winter sports in the Vosges
January 24, 2023 by Francoise Fontanelle
Lac Blanc station Snowshoe outing
© OT Du Lac Blanc
The Lac Blanc ski area located near the Col du Bonhomme is the 3e Massif des Vosges station. With its several kilometers of slopes, this ski resort offers a beautiful view of the region's landscapes and has slopes for all levels as well as a variety of activities.
The Lac Blanc resort (the 3e station of the Massif des Vosges in terms of abundance) located near the Col du Bonhomme has created a whole range of activities and entertainment for you. And there is enough to motivate you to put on skis or snowshoes, depending on whether you want, for a weekend, to believe that you are in the world of the Far North, to take yourself for the star of trip, or simply taste the beautiful slopes of the balloons. Four marked trails for snowshoeing, 67 km of cross-country ski trails, 14 km of downhill, boardercross, slopestyle ski trails… This is a resort for all ages and all tastes!
Feverish on your lattes or want to perfect your style? No problem, ski and snowboard schools are there with their instructors to teach you technique and have fun on the slopes. A welcoming resort where nothing is lacking, especially to satisfy appetites whetted by fresh air and skiing!
And because the days are short in winter, the station puts your hat on the stars at night by playing extra hours until 10 pm To get there, nothing could be simpler: snow tires or chains on the tires , it is a stone's throw from the pass.
Our advice: if you're new to alpine skiing or practicing cross-country skiing, it's easier to get to the resort directly at altitude 1,200. There, you can see all the green alpine slopes as well as the entire Nordic domain.
Station animation
– January 21 and 22, 2023
Dog sled racing
Unique to the Vosges massif with more than 70 teams expected.
– January 28, 2023
The 3 hours of Lac Blanc
Skating style, free relay in teams of 2 open to unlicensed.
Sliding leisure
– Alpine skiing
– Nordic Skiing
– Snow park
– Disabled skiing
– Freestyle area
– Night skiing
French Ski School
Phone: 03 89 71 33 11
Website: www.esf-lac-blanc.com
Switch to Snowboard School
Tel: 06 79 59 01 31
Website: www.switchsnowboard.com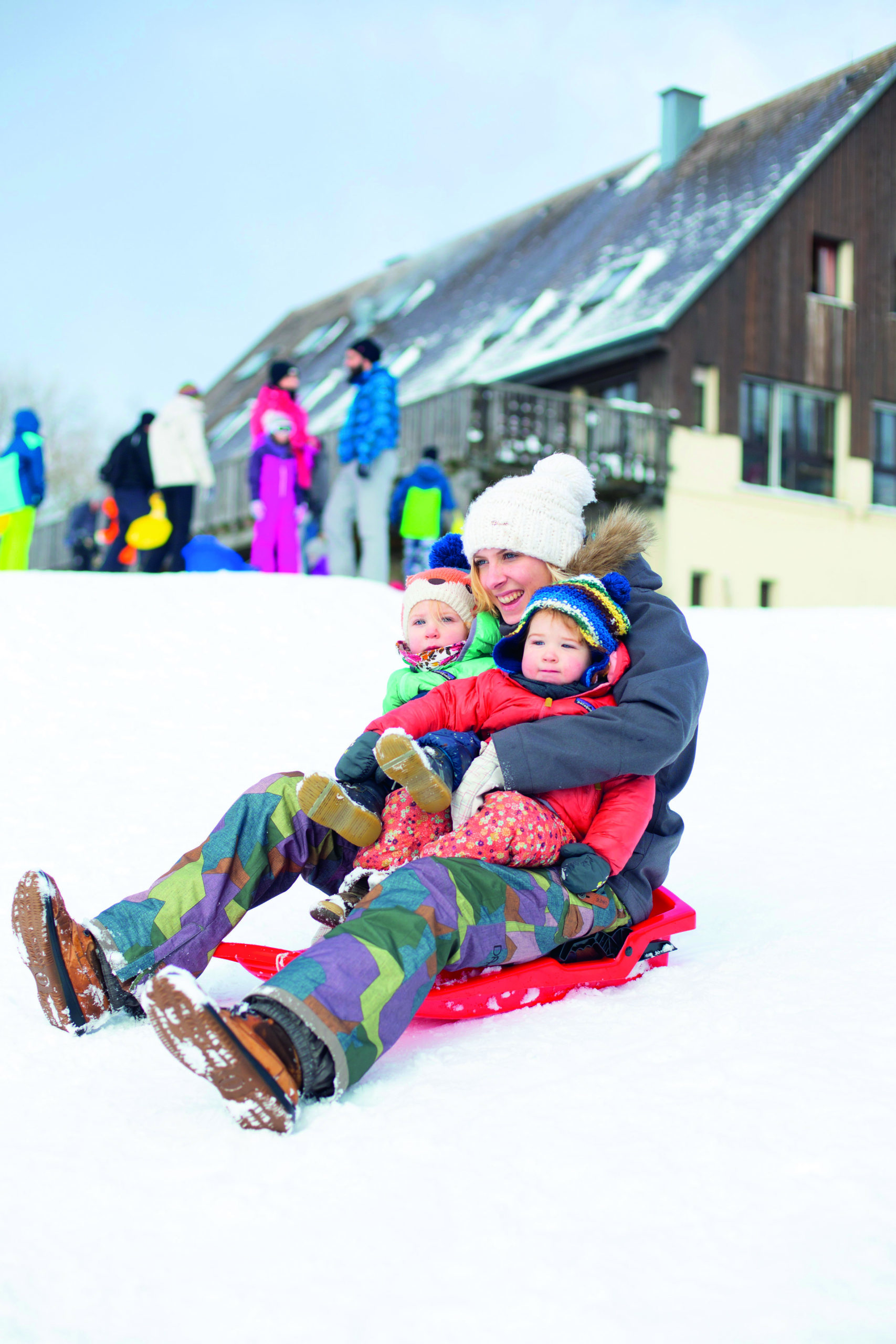 Off-piste recreation
– 2 toboggan runs
– Pedestrian circuit
– 4 marked snowshoe trails
– Accompanied snowshoe excursions with a guide (adults and children)
– Discovery of the tracker profession
– Playful with outings, wildlife watching, igloo building
– Tricky Track – rail sledding (open even in winter)
Snowshoe hikes
WHITE LAKE 1,200
Let's go to the Far North! Take the Tanet nature reserve, Gazon du Faing and Tête des Faux massif, there you are… Signposted routes to follow to preserve sensitive ecological reserve areas from all disturbance.
Free download at www.lac-blanc.com or sold (1€) in our office at the Tourist Office.
Circuit of Immerlins
1 hour – 3 km
Blue markup
Route des Crêtes circuit
3 hours – 9 km
Green markup
Circuit Chaume Thiriet
2h30 – 6km
Red markup
Devin pond circuit
4:30 am – 14km
Black markup
Alpine skiing
– 14 km of slopes: 5 green slopes, 1 blue slope, 6 red slopes and 1 black slope
– 1 chairlift
– 7 ski lifts
– Rope pulling and treadmill
– Night skiing
– Illuminated track
– 140 snow guns
Alpine skiing and snowboarding
The slopes are open daily from 9 am to 4:45 pm
Night skiing: Tuesday and Friday from 5 pm to 10 pm
Freestyle area
Non-school holidays: Wednesday, Saturday and Sunday 2.30 pm to 4.30 pm
School holidays all zones: daily 2:30 pm to 4:30 pm
Nocturne: Wednesday and Saturday from 7 pm to 9 pm
Slalom stadium
Open to the public outside the time slots reserved for competitions and training.
boardercross
500m – height difference 185m
Located between the Montjoie piste and the Bleue Lamaze piste.
Slopestyle area
For experienced riders: two flat and rainbow type handrails!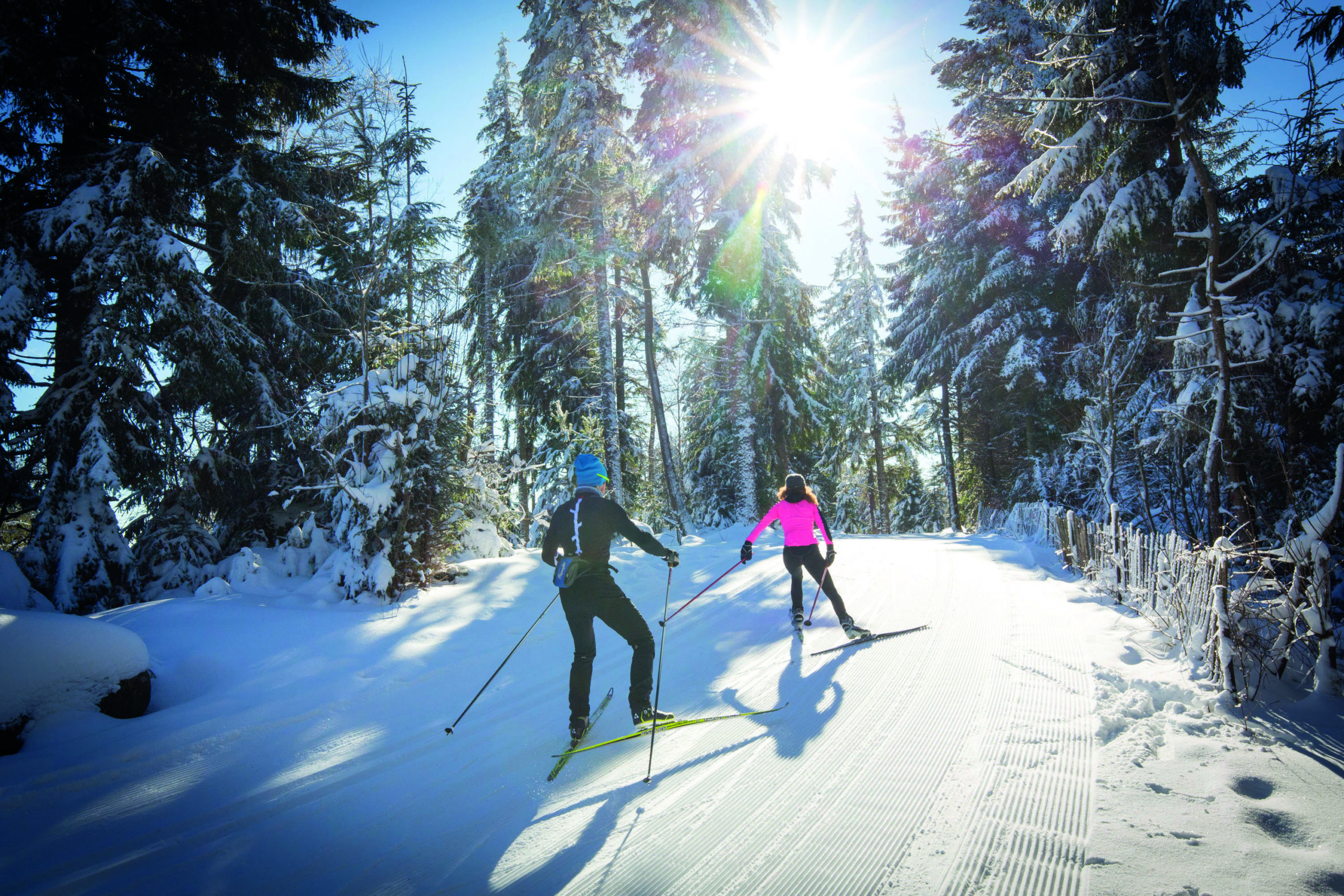 Nordic Skiing
67 km of run: 2 green runs, 6 blue runs, 3 red runs and 2 black runs
Classic and skating skiing
67 km of groomed slopes Labeled resort "Nordic France"a guarantee of quality for cross-country skiers who enjoy beautiful tracks.
Nordic-Park
Lac Blanc 1,200:
Open to all: bumps, hollows, springboards and banked turns at a height of more than 1,000 m
Access opposite the Auberge du Blancrupt at the start of the cross-country trails
The fee is included in the fee price
Prices: €7.50/day/adult
Little Trapper Snowshoe Walk
Every Wednesday and Friday school holidays from 10 am to 12 pm
The snowshoe outing is suitable for children, at the speed of the youngest, for the pleasure of wonder and discovering nature together in winter. Discover and read animal tracks, understand the snow, play in the forest, build a shelter, etc… Moments of discovery and sharing…
The outing is adapted to the current weather and snow conditions.
In the event of a lack of snow, the exit will be maintained and replaced with an "Exit for cabins and trappers' shelters. »
– Suitable from 3 years old
– A discovery of nature in winter
– A mountain guide who is used to supervising children
– Prices: €20/person and €17/person from 4 people
Information and reservations through this link or by phone at 03 89 78 22 78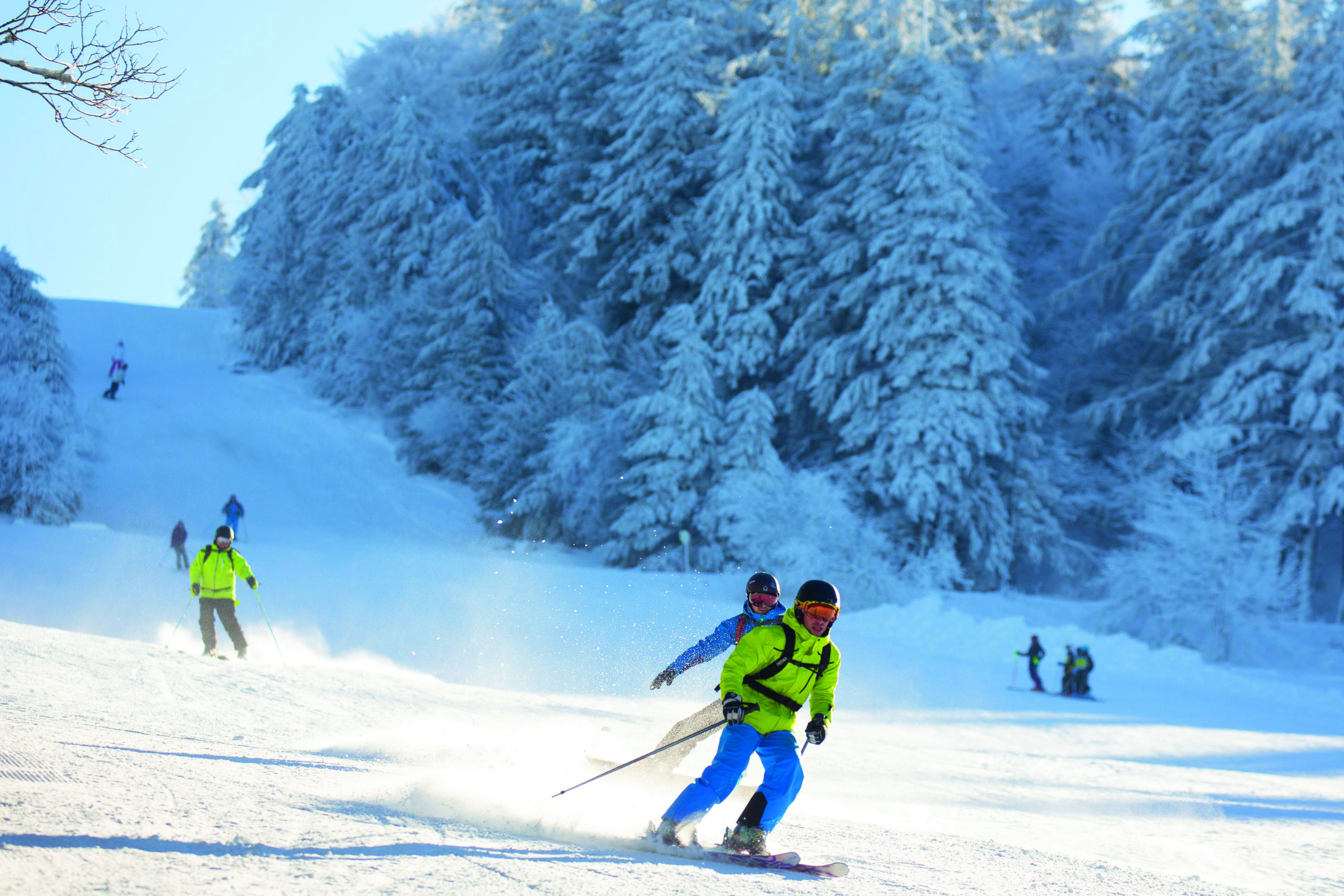 Family snowshoeing
Every Wednesday and Friday school holidays from 1 pm to 3 pm
Come and taste the fun of snowshoeing with your family. An original way to get together and share the joy of an activity in nature supervised by a professional who knows how to share with you his passion for the Vosges mountains.
– Suitable from 6 years old
– Prices: €20/person and €17/person from 4 people
Information and reservations through this link or by phone at 03 89 78 22 78
Practical information
Access:
– Saint-Die: 34 km
– Remiremont: 56 km
– Colmar: 30 km, A 35 – exit Colmar – RD '&( direction Kaysersberg
Packages :
– Alpine skiing: www.lac-blanc.com
– Cross-country skiing: www.lac-blanc.com
Snow info and webcams
Internet: www.lac-blanc.com
Phone: 03 89 71 22 80
tourist office in Lac Blanc
White Lake resort
Reception building in Lac Blanc 1,200
www.lac-blanc.com
Phone: 03 89 78 22 78
Email: contact@lacblanc.com