The man who lives in old books
Han Nôm Duong is the first private establishment in Vietnam that specializes in binding old books, particularly archives in Chinese or Sino-Vietnamese characters. An ambitious project led by Bùi Tiên Phuc, "doctor of books" living in Hô Chi Minh City.
>> A young carving of Buddhist texts in name
>> Vo Van Rang, the last antiquarian bookbinder in Ho Chi Minh City
>> Opening of an exhibition of important books from the Nguyên dynasty
Bùi Tiên Phuc in his workshop Han Nôm Duong, which specializes in restoring old books and manuscripts.
Photo: NVCC/CVN
Located in a small alley of 12e district, a bit away from the city center, the Han Nôm Duong company is a popular destination for those looking to give their library a facelift. Bùi Tiên Phuc, its owner, and her Taiwanese husband Chen Pei Xuan, diligently revive old books and unpublished manuscripts written in Chinese or Sino-Vietnamese characters.
A graduate of a master's degree in the subject in Taiwan (China), the young man returned to Vietnam after six years of study, with the ambition to start the preservation of paper archives, the country's true cultural heritage, using his knowledge. and new technologies. In his native land, Tiên Phuc gives himself body and soul to his project, so his friends affectionately call him "doctor of books".
New restoration techniques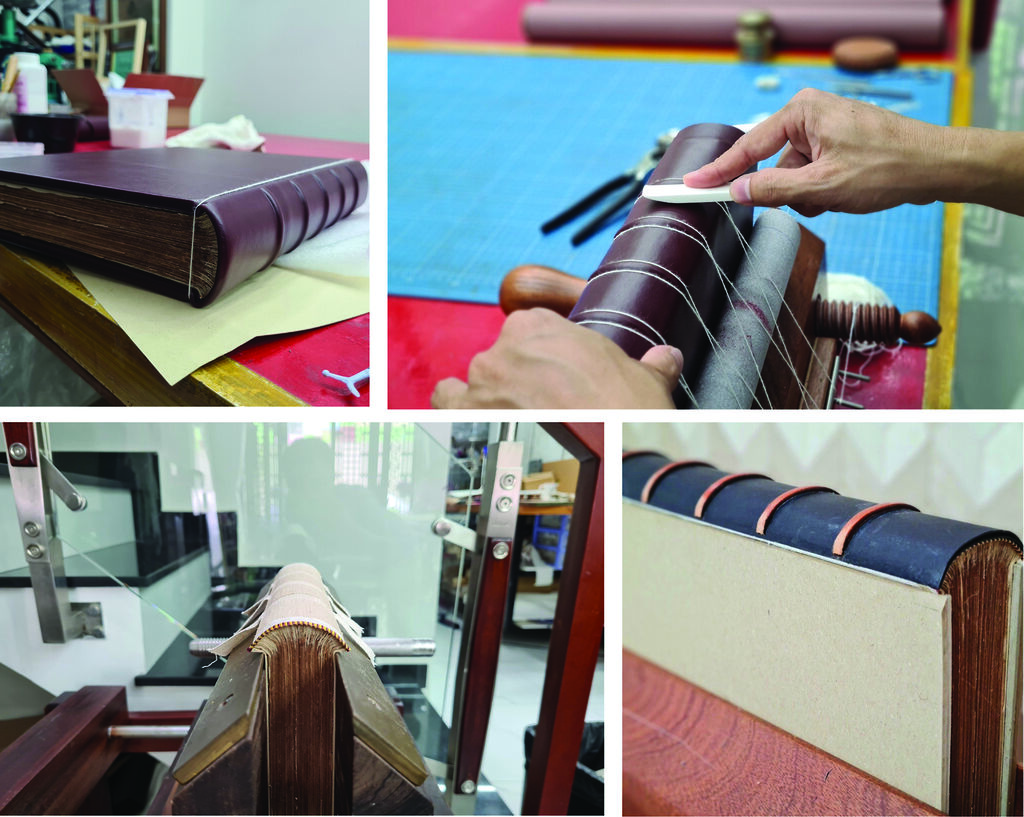 Cardboard passure, a traditional French binding technique, is practiced by Bùi Tiên Phuc to restore old books.
Photo: NVCC/CVN
Created in 2019, Han Nôm Duong revived many old works and manuscripts, and even paintings or documents engraved on stelae.
The main steps for a classic binding of an old book are usually the following: placing, sewing, covering and finishing. But here in Han Nôm Duong, bookbinders also try to laminate the paper, a difficult step that takes time and patience to avoid tearing pages. According to Tiên Phuc, restoring the paintings seems to be the most difficult for her. These books have withstood the test of time and the changing weather, which can sometimes be a headache for bookbinders looking to restore them to their original form. The owner sought to import new restoration technologies to Vietnam, especially the marble paper technique, with which Tiên Phuc and his colleagues succeeded in restoring many ancient paintings. "Reviewing the results, I am proud of this significant work that I continue with patience and will.", he confessed.
A united and passionate couple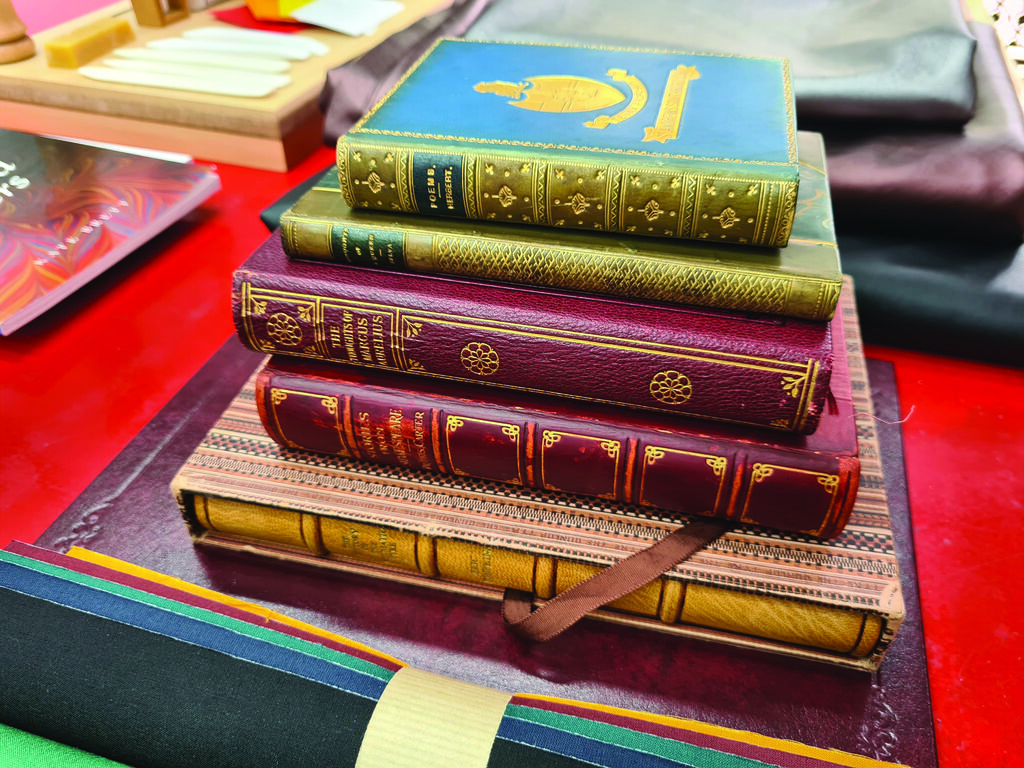 The manuscripts and paintings regained their original appearance under the skilled hands of Bùi Tiên Phuc and his colleagues.
Photo: NVCC/CVN
The achievements and reputation in the bookbinder community achieved by the young man from Binh Thuan province (Centre) are the result of years of study and tireless work. "I knew this profession when I returned to the University of Social and Human Sciences in Ho Chi Minh City, where I studied Chinese and Sino-Vietnamese languages ​​and the Sino-Vietnamese heritage of our country. These studies allowed me to immerse myself in a diverse palette of documents in this language, which further nourished my love for precious heritage.", said the owner of Han Nom Duong. He then worked at the Huê Quang library, which was a pioneer in the collection and preservation of Sino-Vietnamese Buddhist heritage. All this aroused a strong motivation in him, so he decided to pursue with passion this profession of binding old books.
The young man never forgets to mention his academic trip to Taiwan, where he received a scholarship to do his master's degree in cultural heritage preservation at Fo Guang University. During these six years, Tiên Phuc worked tirelessly there to both earn money and enrich his knowledge and experience by attending several museums and workshops devoted to the restoration of old books, manuscripts and historical archive. Whatever obstacles he finds on his journey, the young Vietnamese knows how to overcome them to deepen his knowledge of bookbinding and restoration.
Tiên Phuc said she was lucky to receive support from her colleagues, friends but also and above all from her family. In fact, her Taiwanese husband, Chen Pei Xuan, a graduate of the Chicago Academy of Art (USA), turned down very promising job opportunities to go and live in Vietnam and work with her husband. Thus they became two inseparable traveling companions.
"Many of Vietnam's ancient treasures are written in Sino-graphic characters, which aroused my great interest in Vietnamese culture. When Tiên Phuc shared with me her passion for binding old books, I decided to join her on this journey, which was certainly difficult but very rewarding.", said the girl.
It was a friend of Tiên Phuc, Nguyên Ngoc Anh, deputy director of the National Library of Vietnam, who advised him in 2018 to create an establishment specializing in restoration and bookbinding so that he could pursue his passion without reservation. This project allows him to "work independently or in collaboration with universities or care centers", Tiên Phuc recalled. He realized this idea as soon as he returned to Vietnam, thereby taking risks as the couple planned their wedding and money became their main concern. But again, passion trumps all other considerations.
Send his knowledge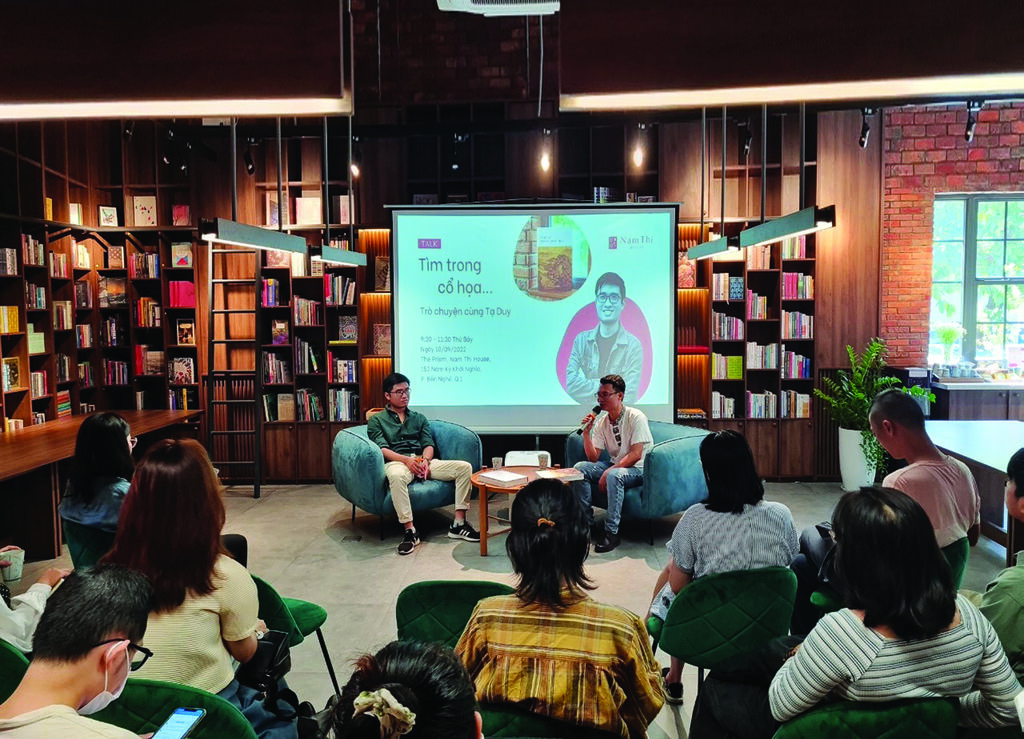 Bùi Tiên Phuc (right) at a cultural heritage preservation workshop in Vietnam.
Photo: NVCC/CVN
His company quickly gained recognition and received many requests for the binding of old documents. The couple has to form a new team but the candidates are not many. "This difficult and poorly paid work does not interest young people, who are more focused on new technologies.", detailed Tiên Phuc.
To make the younger generation aware of the book trades, he and his wife opened training courses for students and enthusiasts.
"My first training had no connection with this profession. It was a new job that pushed me to get a new knowledge and a precise method.", said Thùy Linh, an apprentice at Han Nôm Duong.
"The challenges we face are more difficult than we expect. But if our only goal was to make money, my husband and I would never have returned to Vietnam! With our diplomas and experience, we were able to easily find a well-paying job: teaching, translating books or simply interpreting for large companies, instead of devoting ourselves day and night to bookbinding.", Tiên Phuc declared.
Once Han Nôm Duong reaches a satisfactory operating rhythm, his boss hopes to have time to impart more of his craftsman-bookbinder skills to the students. Its ambition is nothing more than to make the profession of restoration of old books better known. "Currently I continue to translate all books about bookbinding methods of documents by my professors in Taiwan or even Japan and other countries. The goal is to spread basic knowledge about restoration techniques. I would like to organize more workshops or talks that emphasize this profession, and its importance in the preservation of the country's cultural heritage.", the young man shared about his projects, without hiding his desire to see his profession gain a reputation.
With the strength of character and passion that characterizes Tiên Phuc, we can bet that the Han Nôm Duong workshop will be an important precursor in the sector of restoration of old books.
Hong Anh/CVN