Belib's flashback is a delight
In an article published on January 14, 2023, we sent the very sharp price increase in the Bélib charging network. Ile-de-France users of electric vehicles have expressed their dissatisfaction with us. Since January 23, the rates have decreased. We took out our calculator to assess the impact.
Complexity is maintained: one part per kWh…
By comparing the 2 grids – the one in force from January 23, 2023 and the previous one – what immediately jumps to the eye is that the complexity of the presentation is still present for Moto's offers (up to 3.7 kW of power) and Flex ( 7 kW). The calculation is thus carried out both in kilowatt-hours delivered and in connection time.
For the latter, the unit corresponds to a segment of 15 minutes initiated. Before the rollback, a share per kilowatt hour at 0.55 euros plus tax was generally applicable, whether or not you subscribed to the service, resident or not in Paris. It is 0.35 euros including tax, or less than 0.20 euros.
There is an exception reserved for Paris subscribers. By recharging between 11 pm and 8 am, they benefit from an advantageous rate of 0.30 euros per kWh. It is now shown at 0.25 euros. Note that the price of the annual subscription remains at 7 euros including tax. A fine of 10 euros is always collected every 60 minutes beyond 14 consecutive connection hours.
…+ a timeshare
A rearrangement was made in part time. For the motorcycle offer, the latter is charged 0.20 euros per 15-minute period for guests (compared to 0.35 euros until January 22, 2023), and 0.15 euros for subscribers (compared to 0.30 euros ).
If the latter are also residents, they have access to 2 night slots: between 8 pm and 11 pm, and from there until 8 am the next morning, the quarter hour that started will decrease to 0.10 and 0 05 euros, against 0.15 and 0.05 already. euros.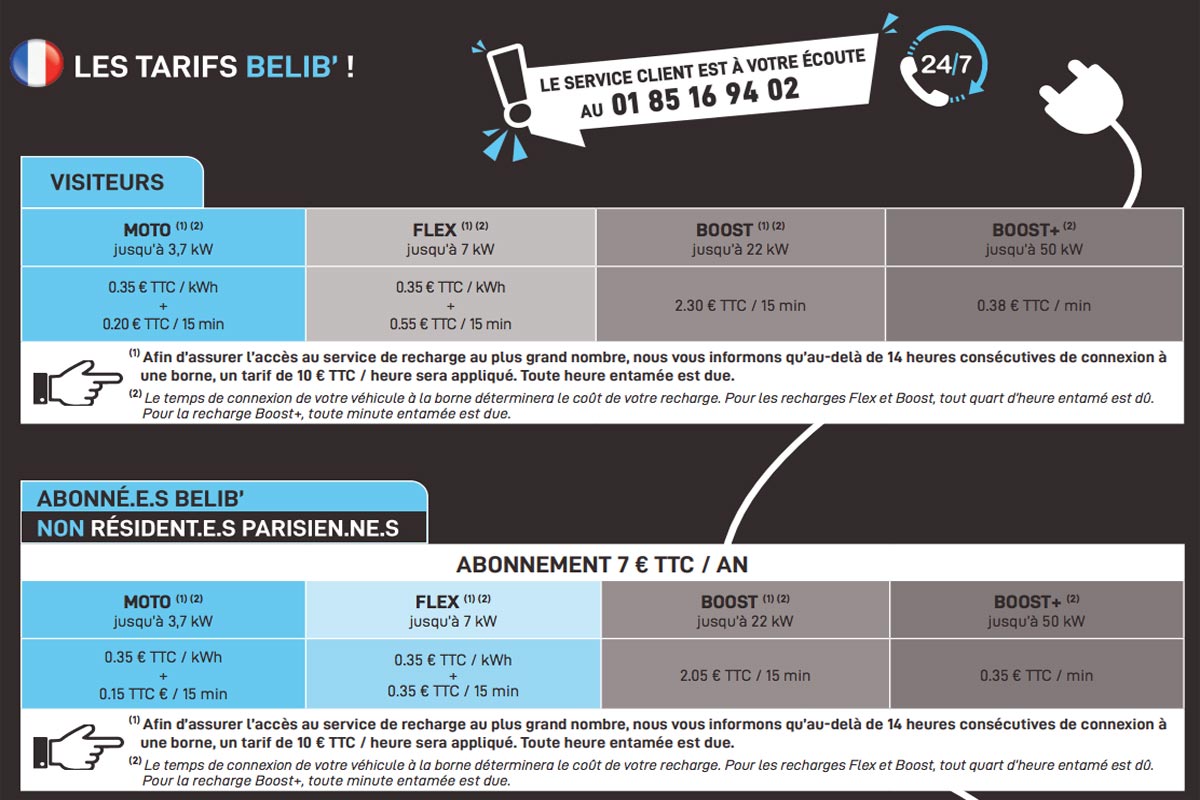 The same logic applies to the Flex 7 kW tariff. Until January 22, you have to add 0.78 euros every 15 minutes if you are guests, or 0.60 euros for subscribers during daytime hours. These figures have been reduced to 0.55 and 0.35 euros. Both movements for 2 night schedules for the benefit of Paris subscribers to the Belib service. From 8 pm to 11 pm, 15 minutes are at 0.15 euros against 0.20 euros. Between 11:00 pm and 8:00 am the following morning, 0.05 euro per quarter hour remains.
Flex offer: Get the full 50 kWh
Let's check the gain for a 50 kWh recharge at the Flex rate, its power is limited to 7 kW. Until January 22, the share for energy excluding night tariffs amounted to 27.50 euros (50 kWh at 0.55 euros per unit). By reducing the kilowatt hour to 0.35 euros, the figures drop to 17.50 euros. That is a saving of 10 euros already at this level.
For electromobilists who subscribe to the Bélib network and live in Paris, the preferential rate for recharging between 11:00 pm 25).
Now let's move back in time. It will take at least 7 hours and an initial cut of 15 minutes of connection, or 29 episodes of 15 minutes. At 0.78 euros for a visitor, we previously earned 22.62 euros (29 x 0.78). That, added to 27.50 euros for energy, gave the full 50 kWh at 50.12 euros.
From now on, visitors must pay 0.55 euros per quarter hour. That is 15.95 euros for the minimum connection time (29 x 0.55). The total bill drops to 33.45 euros (15.95 +17.50). The final gain is then 16.67 euros.
The 100km
Taking from our previous article a moderate average consumption of 12.5 kWh / 100 km, we are left with 400 kilometers of autonomy for a recharge of 50 kWh. 100 km therefore costs 8.36 euros for a guest recharging the Bélib network at the Flex rate, compared to 12.53 euros until January 22, 2023. And this, under the best conditions, because the charge is may increase if the charging power is less than 7 kW for any reason.
The best situation remains with the subscriber living in Paris who can top up between 11:00 pm and 8:00 am the next morning. We have already seen that his share for energy is now 12.50 euros. 29 units at a preferential rate of 0.05 weighs only 1.45 euros. Therefore, a full tank costs him the best 13.95 euros, or 3.49 euros for 100 km. For a subscriber, resident or not in Paris, the basic bill amounts to 17.50 (energy component: 0.35 x 50) + 10.15 (time component: 29 x 0.35) = €27.65. Or 6.91 euros for 100 kilometers.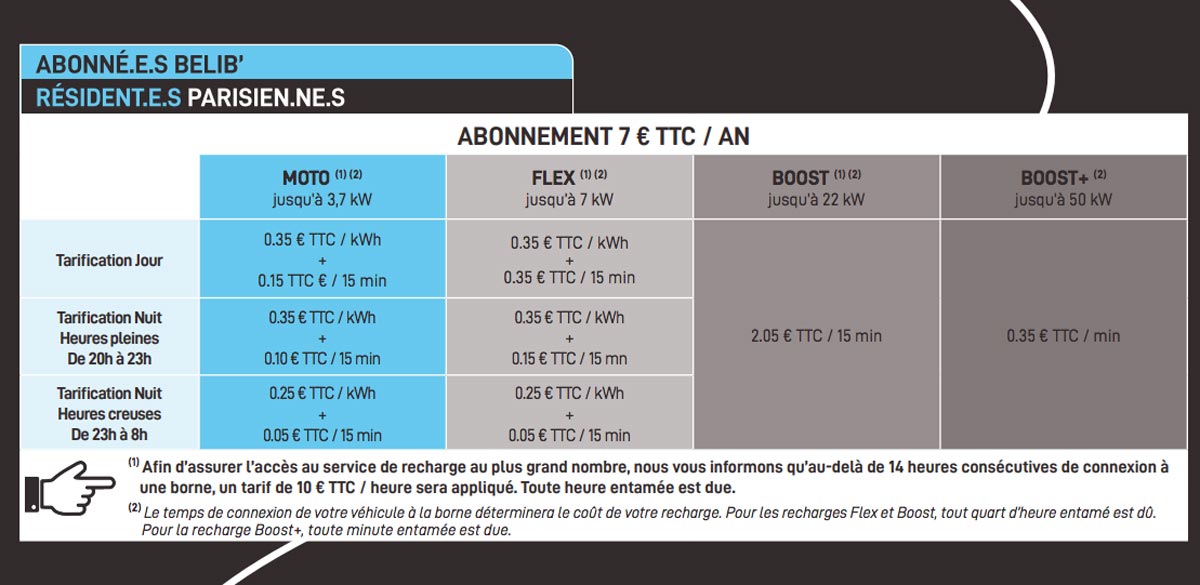 For comparison, a liter of diesel in Paris averages 2.20 euros at the date of writing this article (January 26, 2023). In Paris traffic jams, the consumption of 7 liters to travel 100 km is not exaggerated. Which then gives us a cost of 15.40 euros in a diesel car (7 x 2.20). The new tariffs of the Bélib network, where we can see TotalEnergies, once again make electric mobility more attractive in the capital.
Boost and Boost+ offers
The Boost offer offers charging up to a power of 22 kW. Its billing is done only by the hour, keeping the quarter of an hour as a unit. It remained at 2.30 euros for visitors. On the other hand, it fell from 2.15 to 2.05 euros for subscribers, residents of Paris or not. There is no night rate here.
So a visitor will always pay 66.70 euros (29 x 2.30 euros) at a 22 kW AC terminal if his car only has a 7 kW charger. On the other hand, if the vehicle device is a 22 kW, the number of units is reduced to 10, or 23 euros for a full tank (10 x 2.30 euros). A subscriber will pay respectively under the same conditions 59.45 euros (29 x 2.05 euros) or 20.50 euros (10 x 2.05 euros), against the former 62.35 euros (29 x 2.15 euros) or 21 .50 euros (10 x 2.15 euros).
We still have the Boost+ offer, for DC charging up to 50 kW, charged per minute: 0.38 euros for a guest or 0.35 for a subscriber, compared to 0.50 and 0.45 euros before. Let's count 75 minutes of connection with a 64 kWh battery to receive 50 kWh of electricity, considering a favorable charging curve between 10 and 90%.
Until January 22, guests will have to leave 37.50 euros (75 minutes x 0.50 euros), against 33.75 euros (75 minutes x 0.45 euros) for subscribers. With the new rates, the numbers drop respectively to 28.50 euros (75 x 0.38 euros), against 26.25 euros (75 minutes x 0.35 euros). This benefit of 9 or 7.50 euros is not negligible.
Also read
Automobile Propre attended the launch of Lidl's fast and cheap recharge
Author's opinion
We are just happy with the backtracking done by TotalEnergies regarding Belib's charging network. Out of curiosity, we would like to know the reasons, official and/or unofficial.
One might think that the number of calls from users caused the intelligence platform standard to explode. Perhaps the mayor of Paris has made it known what he thinks of the hefty increase. And why not, that our first calculations allow the operator to realize the effect of the first movement.
Anyway, we still have no news about the price charge shield. If it's just an indication to confirm that it's still being studied, for example. Given the 180-degree movement that a large group can achieve in good health, smaller structures are unlikely to be able to afford it without State assistance.
---