Lucid opened a store in Quebec
Lucid is now doing well in Quebec. On January 28, the new Californian brand of luxury cars welcomed customers for the first time at its new commercial establishment in Montreal. Nicknamed the "studio", it is the 32nd establishment of its kind in North America and 36th worldwide.
This is also Lucid's third studio in Canada. The manufacturer inaugurated the first in Vancouver in October 2021, then the second in Toronto in March 2022.
These three corporate establishments offer the Lucid Air, the only model listed in the manufacturer's catalog at the moment. It is an electric-powered luxury sedan targeting buyers interested in the Mercedes-Benz S-Class and EQS, BMW 7 Series and i7 and other similar models.
Awesome facilities
Covering an area of ​​1,781 square feet, the Montreal studio is located at 6700 Saint-Jacques Street, in the Côte-des-Neiges/Notre-Dame-de-Grâce borough. This is a building built in 2005 that was previously occupied by the Holland Group.

Led by Sasha Hagen, a dynamic young woman who worked for nine years for Tesla in Montreal, this studio will provide sales, maintenance and service services for Quebec and the Maritimes.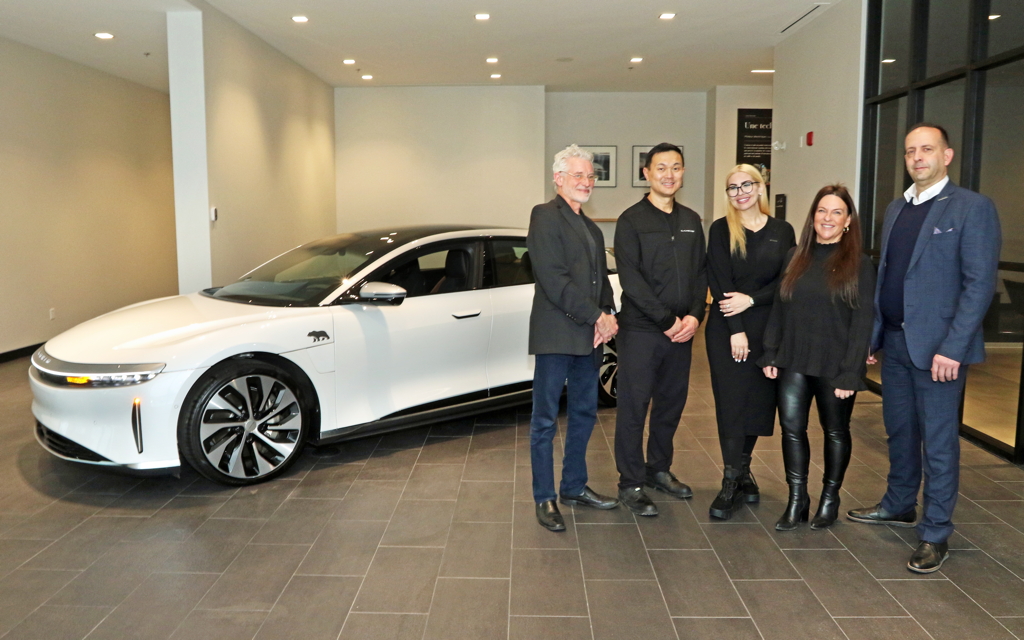 Open from 10:00 am to 5:00 pm on weekdays and from 10:00 am to 4:00 pm on weekends, it employs approximately ten people, including five representatives. "I also hope to have more representatives very soon," said Ms. Hagen in a visit organized for the press before the opening to the public. A visit that allowed us to discover an establishment dedicated to customer service.
Customer service priority
"When a customer comes to us, a representative meets with them to learn their habits, wants and needs," says Hagen. "Then we take it to our configuration room, a more intimate area where we can discuss options, prices, colors, interior finishes, etc. We spend the necessary time with him to make sure all his questions are answered and to give him the best possible experience. »
The same goes for service and maintenance. Besides, as David Buchko, director of public relations for products at Lucid Motors, explained to us, we don't expect to see buyers and their cars very often. "About 80 to 85 percent of everything our vehicle will need in terms of service will be done remotely, through computer updates," he said.
In other cases, the Montreal studio will take advantage of its extensive workshop equipped with three goods lifts or one or other of its three mobile units if, for example, repairs require on-site intervention, wherever the vehicle may be.
A volume set to grow
Currently, there are few Lucids in the country. By 2022, the manufacturer would have delivered 100 to Canadian consumers, including about fifteen in Quebec. One of these vessels even ended up in the Maritimes. The manufacturer naturally wants to increase its deliveries in 2023 and this should not be difficult.
With Napa leather upholstery sourced from Bridge of Weir in Scotland (supplied by Bentley), North American walnut trim and Alcantara inserts, the interior finish of the Lucid Air Grand Touring sitting enthroned in the showroom (pictured below) is unmatched by those its rival. . However, it is on its extraordinary performance that the manufacturer relies on to stand out.
Offered at $212,500, this richly equipped sedan has a high-voltage engine (924 volts) that produces 819 horsepower, enough to bring down 100 km/h in 3 seconds and dust. It is powered by a 112 kWh battery that gives an optimal range of 830 kilometers. In addition, once the latter is discharged, 20 minutes of charging at a high-speed terminal is enough to send enough electricity to travel 500 kilometers.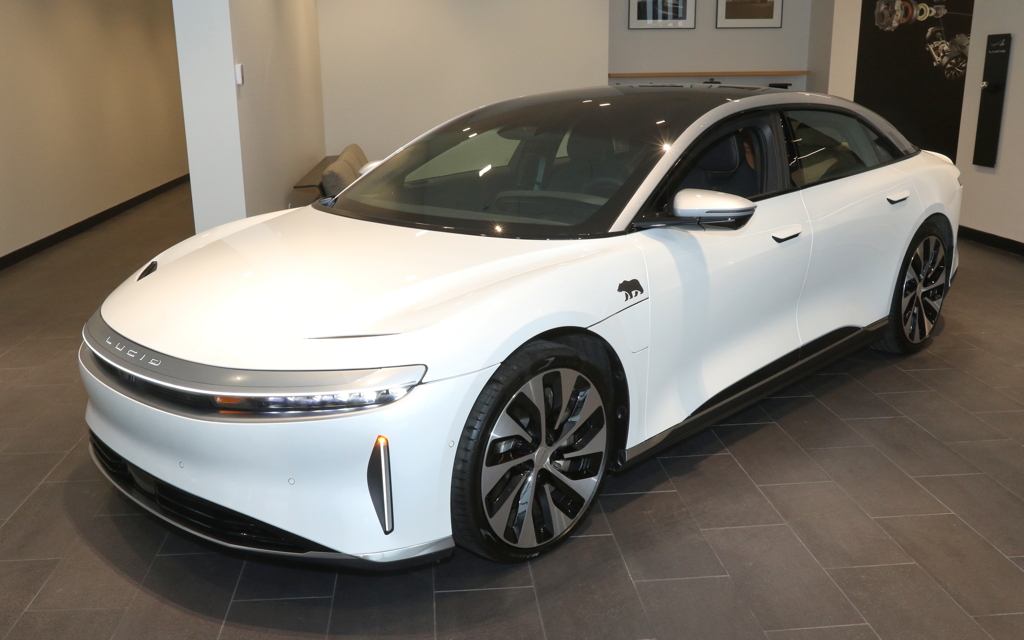 One might think that the small silhouette of a gray that adorns the front fender of this sedan exudes its power and its impressive energy. In fact, you should first know that this is not an ordinary bear. A California grizzly named Monarch is featured on the state flag. However, this symbol, which no other California manufacturer has used so far, can be found in about ten places on the car, Mr. Buchko told us. It's a bit like an Easter egg that we would have hidden to make the big kids happy!
A range to grow
So far, Lucid has delivered only three versions of the Air sedan to its buyers. The first is the Air Dream, a well-equipped version designed to mark the start of the brand's production in 2021, of which no more than 520 copies will be produced.
Then, last year, Lucid began delivering Grand Touring and Grand Touring Performance ($244,500) versions, a 1,050-horsepower variant.
Next spring, the manufacturer will begin delivering Air Tourings ($148,500), a version that shares most of the Air Grand Touring's equipment, but with a 620 hp engine, four-wheel drive (like the other versions). ) and lower battery capacity provides approximately 653 km of range.
In the summer, we'll see the first four-wheel-drive Air Pure ($121,500), a 480-hp sedan with the same Touring range, then shortly after, the rear-wheel-drive Air Pure, a version whose price has yet to be announced.
Finally, before the end of the year, Lucid will deliver its first Air Sapphire, a car with more than 1,200 horsepower that can hit 100 km/h in less than 2 seconds! Offered at $327,500, this version will be the brand's new flagship.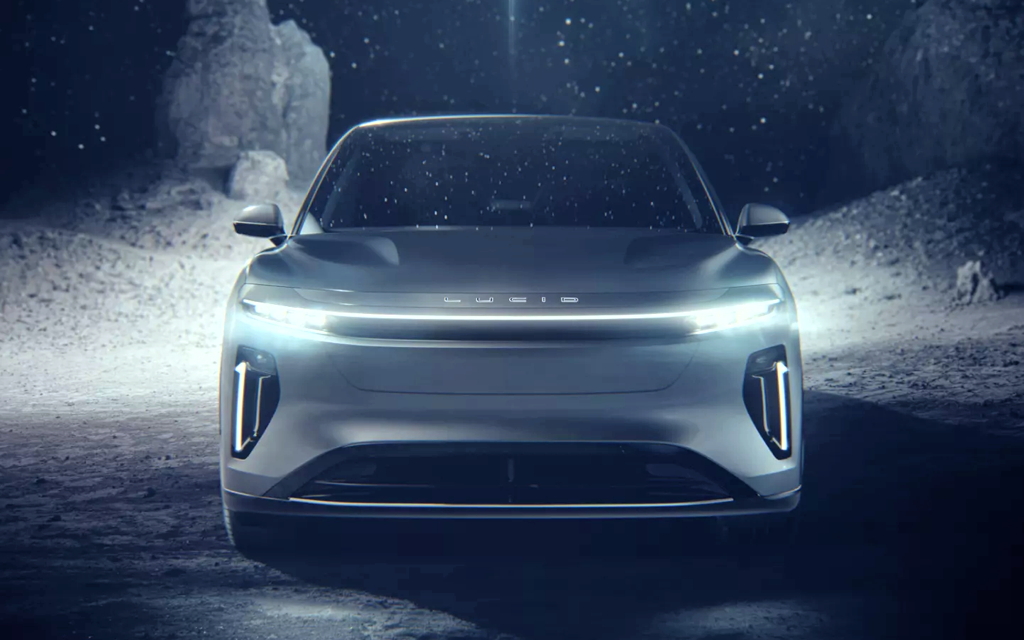 A utility in 2024
But Lucid doesn't stop there. In 2024, the Gravity, a utility designed to seat up to 7 people, will debut and, like the Air sedan, it will be assembled at the Lucid factory in Casa Grande, Arizona. It will also soon be possible to reserve one on the brand's website.
Then, by mid-decade, a car and utility sharing a smaller platform than the Air/Gravity duo should follow in their footsteps.
Photos: Luc Gagne and Lucid Motors